San Marcos, California Specialty Rug Cleaners
Looking for expert cleaning for your fine area rug?  Our highly trained and certified rug cleaning technicians are ready to serve you in San Marcos.  Whether that's for a valuable antique, a family treasure, or a contemporary designer rug you love.  Regular cleaning is important for appearance but also to remove dust and soil trapped deep within, beyond where vacuuming can reach.  Otherwise rugs experience unnecessary wear and you experience unnecessary allergens.  But steam cleaning or bonnet dry cleaning can permanently damage them.  Our team knows what to do to clean each and every type of fine rug, and can also restore and rejuvenate neglected rugs to last for generations.
Our specific expertise includes antique, Chinese, horse blanket, Indian, Navajo, needlepoint, Oriental, Persian, tapestry, Tibetan, tribal, and Turkish rugs.  Including the extra-special care required for silk and wool fibers.
A Full Line of Services in San Marcos
We're known throughout the San Marcos area for our outstanding cleaning services.  We round that out with a full line of fine area rug care.
Full immersion cleaning — a centuries-old process combined with modern cleansers.
Hand dry cleaning for delicate fibers (such as silk and jute as well as man-made fibers such as art silk, banana silk, and processed bamboo) as well as for non-colorfast dyes.
Dusting to remove textile-cutting dust and irritants in between cleanings.
Pet urine treatment to reduce or eliminate stains and remove odors using specially formulated products.
Allergy treatment using natural products to reduce the effects of dust, pollen, and dander.
Moth and pest treatment to kill eggs and larvae as well as adult insects.  It's the larvae that do damage by feeding on natural fibers.
Rug padding using clean, natural felt to reduce the uneven wear and trip hazards of shifting, curling, and wrinkling.
Tea washing restores the "antiquing" treatment sometimes applied to fringe.
Preparation and storage begins with thorough cleaning and drying.  We'll then apply insect retardant and wrap each rug.  During storage at our facility we'll periodically check their condition.
Although we don't perform other than minor repairs we're happy to refer you to a local San Marcos specialist.  We can also make referrals for formal appraisals.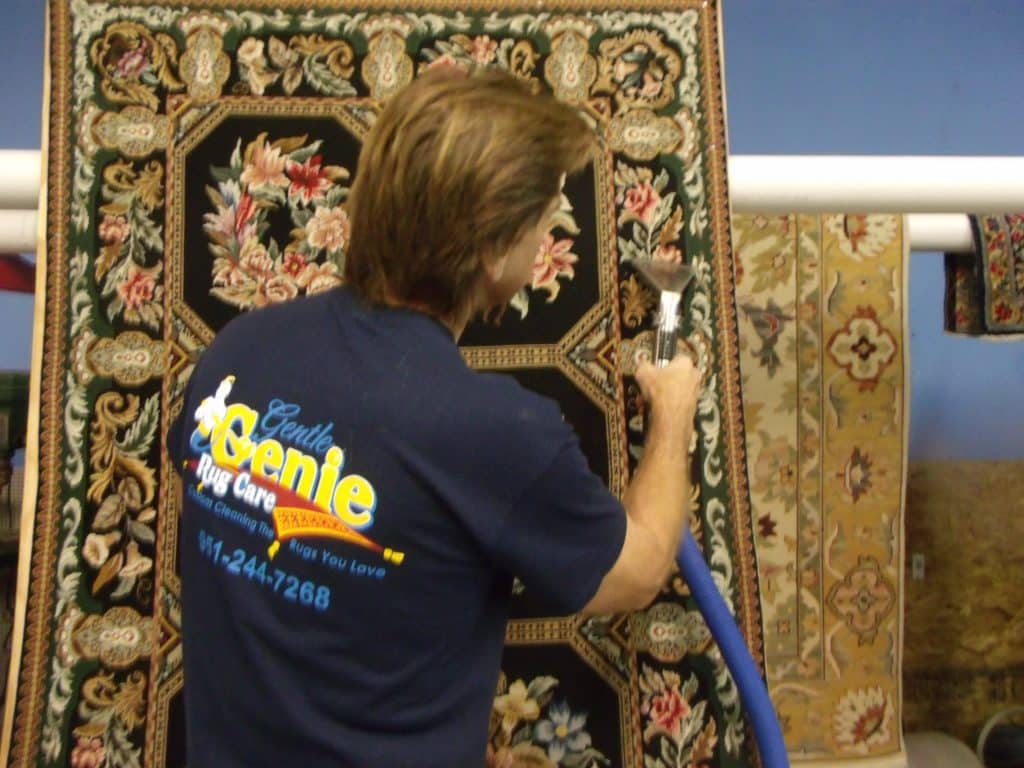 Our 8-Step Immersion Cleaning Process
Full immersion cleaning is the method preferred by experts and museums for most Oriental, Persian, and specialty rugs.  Our process is to always wash each rug individually by hand using purified water and mild products carefully selected for each combination of textile fibers and construction.
Pre-inspection determines the types of  fibers, pile density, the type of weave, and country of origin.  We'll also test for dye color fastness and overall condition, documenting our findings.
Dusting removes large amounts of soiling that can cake and harm the cleaning process.  We use a Rug Badger dusting machine, then vacuum both sides.
Odor removal takes care of deeply trapped pet, smoke, mildew, and other odors that might not come out with cleansers.
Cleaning involves immersion in a water bath similar using carefully selected cleansers.  This step also applies stain and spot removal as needed.
Rinsing in continuously running soft water, just like river washing, and continues until no contaminants remain.
Grooming brushes in the direction of knots for proper drying to a uniform texture and uniform light reflection.
Drying begins horizontally, followed by vertical hanging in our climate-controlled drying room until measurements on each rug show the proper moisture content.
Post-inspection assures that your rug is as clean as it can possibly be.  We'll dust and vacuum again, and repeat other steps as needed.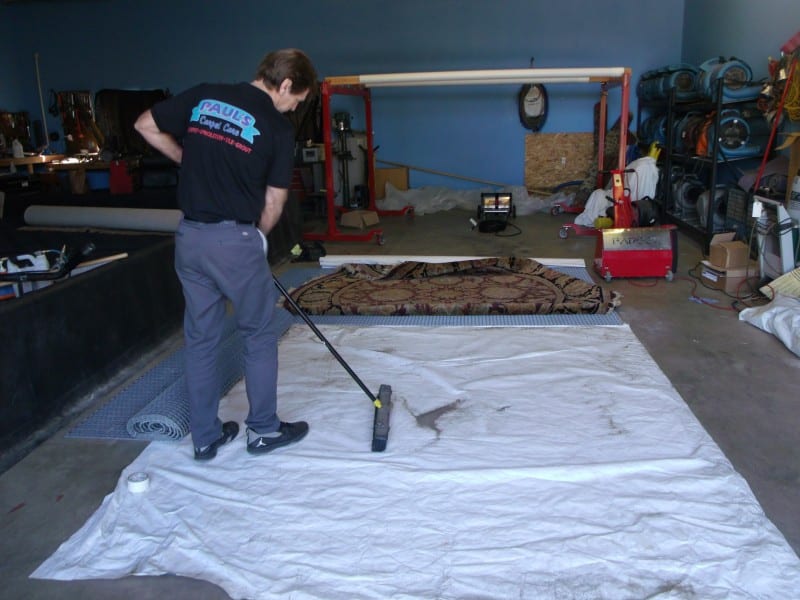 Why Gentle Genie?
We're a local small business serving San Marcos and beyond.  We're known for our knowledge and integrity together with superior techniques, technology, and techniques.  We're certified by IICRC  (the Institute of Inspection, Cleaning, and Restoration — the world-wide leading non-profit).  Maintaining that certification as well as our dedication to exceptional services involves ongoing education, membership in professional organizations, and participation in industry activities. In brief we provide the best care possible at reasonable prices.
San Marcos?
The area that became San Marcos California was first settled in the early 1880s.  It's name came from the San Marcos Land Company, which purchased land in 1887 and divided it into tracts.  But the population didn't really grow until the arrival of water from the Colorado River in 1956.
Our Recent Projects