Oriental and Area Rug Cleaning Menifee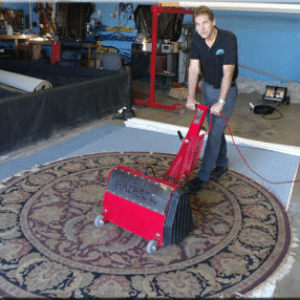 Special rugs need special care to protect your investment. Gentle Genie Rug Care has been providing specialized professional oriental rug cleaning and area rug cleaning services in Menifee for years.
Don't trust your fine rugs to regular cleaners.  Some use techniques such as hot-steam or machine "dry" cleaning.  Others use machines that "tub" wash multiple rugs all together.  These things can damage your prize possessions.  Experts such as collectors and  museums recommend full-immersion hand washing using cold water and mild products, or in some special cases "by hand" dry-cleaning.
Each type of rug material and rug condition requires different shampoos and even different washing and drying methods .  We always follow the industry's best practices for Chinese/Oriental, Silk, Persian and Navajo area rug cleaning.
Fine carpets should be cleaned regularly, every few years.  This takes care of accumulated dirt and soil that you don't see and vacuuming can't reach.  That dirt grinds against the textile's fibers, and can damage them.   Wise homeowners and serious collectors come to us to protect their investment.  Our processes include:
Inspection and dye testing,
Dusting,
Soaking, washing, and rinsing, or
By hand dry-cleaning
Drying,
Grooming
Post inspection
Menifee Oriental Rug Cleaning
Experts do not recommend any sort of home oriental rug cleaning. The specifics of textiles, dyes, and carpet conditions require an expert eye and experienced hand. Hand-knotted textiles, requires a particularly gentle and patient approach. Many oriental carpets incorporate silk or wool, requiring expert knowledge of textiles and the appropriate shampoos. We have the expert knowledge to determine the best way to treat your particular oriental rug.

Persian Rug Cleaning
Persian rugs are primarily wool, but often contain silk, cotton and metal thread which means that their care requires expertise and experience with several types of textiles. Wool itself has several special requirements.
removal of all shampoo residue
conditioning for softness and luster
proper handling to prevent stretching
blocking
Navajo Rug Cleaning in Menifee
The all-natural minimally-processed construction of Navajo textiles requires exceptional skill. Primarily wool, the cautions concerning Persian carpets apply — as well as a couple more. Like any woolen textile, agitation can result in "felting," an undesirable change in texture and appearance. The dyes used in traditional Navajo textiles are water-based and can bleed away if not washed carefully. It's vital to use cold water together with dye-setting agents to preserve color and clarity. The natural wool also requires extra care in vacuuming and washing.
Gentle handling, specialized shampoos, and moth-proofing should be included in the process. For traditional Navajo textiles, a series of many washings and sun-dryings may be needed to handle prior color bleeds and staining. Navajo rug cleaning can also be done via dry cleaning.
In all cases the following rules are applied.
Test every dye color before hand
Hand clean only — no machine washing
Use the proper extra-conditioning following washing
Silk Rug Cleaning Menifee
Professional treatment is a must for silk carpets. As most people know, silk is a strong fiber but is easily damaged by improper cleaning. Silk rug cleaning should not involve any steam, hot water, or abrasive cleansers. It is also easily stained, so cleaning often involves stain removal. As a further complication, many "silk" carpets also contain wool or cotton; this needs to be taken into account in choosing the right shampoo, washing method, and drying method.

Why Choose Us
In Menifee we're experts in Oriental, Persian, and Navajo rug cleaning and carefully examine your carpet's condition, construction and fiber such as wool, silk, cotton, and other textile content to choose the best course of action before we even begin. Gentle Genie has the training, expertise, experience, equipment, and facilities to offer you a full line of area rug cleaning services.
Dusting
Full-immersion cleaning
Hand dry cleaning
Special treatments – moth proofing, pet urine removal, anti-allergy
Floor padding
Preparation for storage
Stain and soil protection
We can also perform repairs and appraisals.
We pride ourselves on our top-quality service. We offer convenient hours as well as pickup and delivery.
Our highly trained technicians use superior technology to provide the best services in the area. We've been around since 1980 as a subsidiary of Paul's Carpet; we want to be the Menifee area's choice for another 30 years.