Oriental and Area Rug Cleaning Carlsbad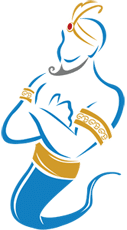 Are you looking for fine area rug cleaning service in the Carlsbad area? Look no further — you've found Gentle Genie Rug Care. We're the Carlsbad area experts for oriental rug cleaning and Persian rug cleaning.
Fine rugs deserve professional cleaning to preserve their exquisite beauty for generations. Anything less risks damage. Did you know that improper cleaning is a leading cause of damage of oriental rugs?
At Gentle Genie only well-trained professionals handle your rugs. Your area rugs will be hand cleaned in our special studio using a process specifically tailored to the exact characteristics of the individual rug. We've been operating since 1980; that's almost a quarter-century of experience and dedication. We're also experienced experts in silk and Navajo rugs as well as a variety of other textiles.
Each type of rug material and rug condition requires different shampoos and even different washing and drying methods.  We always follow the industry's best practices for Chinese/Oriental, Silk, Persian and Navajo area rug cleaning.
Call Us for a Free 6-Step In-Home Inspection of your Fine Rugs. (951) 244-7268
Carlsbad Area Rug Cleaning Service
Even in low traffic areas all rugs need to be cleaned every one to three years. And fine rugs should be professionally treated immediately after any spills.
Even if they don't look dirty, dust, dirt, sand, and grime penetrate deep down below where a vacuum simply can't reach. Abrasive particles quite literally cut fibers and are the real reason behind wear. And grime encourages mildew, odors, and pests. Authorities strongly advise against any sort of in-home cleaning. At best it will only remove surface dirt, perhaps replacing it with sticky residue. At worst it can cause permanent damage. Never steam-clean any rug containing wool.
At Gentle Genie we use full immersion cold-water cleaning, and in special cases by-hand dry cleaning. We also provide pet urine, moth, pest, and allergy treatments as well as stain and soil protection, padding, and preparation for storage. We're also the local experts for appraisals and repairs.
Oriental Rug Cleaning in Carlsbad
Oriental rugs are made of various combinations of wool, cotton, and silk fibers. It's critical to understand the exact fiber blend and construction style in order to provide a safe yet thorough cleaning. Chinese rugs must be cleaned by hand in cold water. No machines, no harsh chemicals, and absolutely no steam. The process is time consuming, but each step is necessary.
thoroughly inspect, document findings
test each color dye for bleeding
hand-dusting
hand washing in flowing water with specially formulated shampoo
conditioning as needed
grooming for best texture
natural drying, with no wringers or rollers, monitored for progress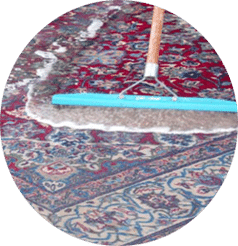 Persian Rug Cleaning in Carlsbad
Wool is the most common material, and cotton, silk, and metal threads can also be included. So the Persian rug cleaning process is much the same as for oriental rugs, but with special nuances related to the exact fiber blend, weave, and other construction and dyeing details.
Did you know that the finest Persian rugs are made in Iran by thousands of small independent weavers? That means that each is truly a one of a kind creation. Recently, fine Persian rugs made in India, Pakistan, Turkey, and China have entered the market.
Why Choose Us
You can count on Gentle Genie Rug Care for the absolute best in area rug cleaning in the Carlsbad area. If cleaned improperly your fine rug can quickly look dirty again. Our expert thorough and safe processes leave absolutely no residue. Just give us a call for Persian rug cleaning, oriental rug cleaning, and many other rug cleaning services. We'll pickup and deliver, and are happy to perform a free inspection in the convenience of your home. Of course we are IICRC-certified.