Vista Professional Rug Cleaning Service
Do you need area rug cleaning for your fine carpets? Gentle Genie Rug Care is your Vista expert, specializing in Oriental rug cleaning and Persian rug cleaning.
Whether a handmade Oriental heirloom or a contemporary marvel, quality rugs need careful cleaning. Vacuuming just doesn't do the job. These textile treasures are worth preserving for generations, and that requires regular care. Gentle Genie has been hard at work for over 30 years, and our long-term repeat customers demonstrate our value in maintaining their investment in a fine Persian or Oriental rug. Don't hesitate to give us a call for a free six-step inspection right in your Vista home.
Call Us for a Free 6-Step In-Home Inspection of your Fine Rugs. (951) 244-7268
Area Rug Cleaning in Vista, CA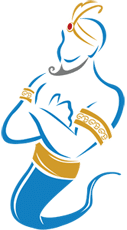 Washing is necessary to remove deep-down dirt, dust, sand, and grime. Experts recommend that you do this every two to three years, regardless of appearance. Otherwise foot traffic will lead to those embedded abrasive particles actually cutting into the textile's fibers. That shortens your rugs and damages their appearance, and is the primary cause of rug wear. Combined with Vista's average morning humidity of 70 to 80%, that grime can also contribute to the growth of mold and bacteria deep inside where you might not even notice the damage.
Never trust your treasures to just any carpet or rug cleaning service. Steam cleaning and many types of dry cleaning can ruin fine textiles. In-home cleaning, machine cleaning, and cleaning multiple rugs together is simply asking for trouble, especially for Oriental rugs. Also don't attempt any do-it-yourself efforts at spot cleaning; only an expert can select the right cleaning solutions for a fine area rug.
Fortunately, area rugs are easily moved to a controlled cleaning area. We offer the best in quality area rug cleaning. Or staff is specially trained and uses only gentle hand cleaning processes and specially selected shampoos in our custom studio.
A thorough inspection is actually the most critical step in any rug cleaning service. In order to determine the safest and most thorough approach for your particular carpet we'll determine what types of fibers are incorporated, how the rug is woven, and even the country of origin. We'll be on the lookout for spotting, tears, and residue along with many other characteristics and issues. A visual inspection alone can't determine the fastness of the dyes, so we'll also perform dye testing as well. The remainder of our ten-step process includes a thorough dusting, full-saturation soaking, washing in flowing water with a shampoo chosen on the basis of the textiles and dyes, thorough rinsing, grooming, and carefully controlled drying. Our process also includes fringe cleaning and final brushing.
This thorough yet gentle approach is well worth the cost, making sure your investment is protected. Don't risk it with anything less than the best.
Our trained professionals together with special facilities assure the best possible outcome — maintaining the beauty and extending the lifetime of fine textiles.
Vista Oriental Rug Cleaning
Made of silk and wool, and sometimes silk alone, these hand-knotted rugs also need very special care. As with other fine textiles, Oriental rug cleaning experts recommend washing by hand in cold water. The most frequent cause of Oriental rug damage is improper cleaning. Following best practices, we perform all cleaning and drying in the controlled environment of our specialized studio. Everything is done in cold water, by hand and without harsh chemicals. This is the best way to preserve their beauty, and is essentially the traditional method that has been used for centuries.
thoroughly inspect, document findings
test each color dye for bleeding
hand-dusting
hand washing in flowing water with specially formulated shampoo
conditioning as needed
grooming for best texture
natural drying, with no wringers or rollers, monitored for progress
Vista Persian Rug Cleaning
Traditional Persian rugs are among the finest in the world. A central part of Persian art and culture, thousands of individual independent weavers apply ancient techniques and traditional designs. A true Persian rug is made in Iran, and each is truly a one of a kind creation. High-quality imitations are also available from Turkey and Pakistan.
Their primary fiber is wool, so that it's vital in Persian rug cleaning to remove all shampoo residue and then add special conditioners to maintain their vivid colors, luster, and softness. Persian rugs also commonly include silk and metal threads as well. When they do, these materials must be taken into consideration during cleaning.
Choose Gentle Genie Rug Care
If you'd like to visit our studio, we're located in Wildomar, some 37 miles north of Vista. We know that's a long 45-minute drive, so we'll come to you with free in-home inspections and free pick-up and delivery.
You can trust us to give your fine textiles the customized care they deserve. As required, we can provide special treatments for pet urine, moth, pest, and allergy issues as well as padding and soil and stain protection treatments. Our highly professional services also include repairs, appraisals, and preparation for storage. We take pride in providing the best service in the Vista area.