Oriental and Area Rug Cleaning Murrieta
A handmade rug is a true treasure; properly cared for they can last for generations. You can trust your treasures to Gentle Genie Rug Care. We've been providing professional specialty services to Murrieta for years.
Do you have an Oriental or area carpet that needs cleaning? Give us a call for a free 6-step inspection and estimate. Our professionals are specially trained to take the best care of your rugs with gentle but thorough customized hand cleaning at our local studio.
Whether it's an antique or contemporary textile, your rug will get the care and attention it deserves. We're experienced with Chinese / Oriental rug cleaning, silk rug cleaning, Navajo rug cleaning, and Persian rug cleaning as well as specialties such as tapestry, needlepoint, and even fine horse-blanket rugs.
We're the proven experts in Murrieta with the education, products and equipment to give your rug professional care
We use only the recommended best-practices for your particular situation.
We offer a full range of services including: full immersion cleaning, hand dry-cleaning, dusting, and various treatments (pet urine, moth & pest, and allergy).
We also offer soil & stain protection and rug padding and can prepare your area carpet for storage.
We offer appraisals and repairs.
We offer convenient hours as well as pickup and delivery.
As a subsidiary of Paul's Carpet, we've earned the community's trust by serving the valley since 1980.
Why risk your valued fine carpets? Protect your investment. Our trained technicians always "handle with care" using superior equipment.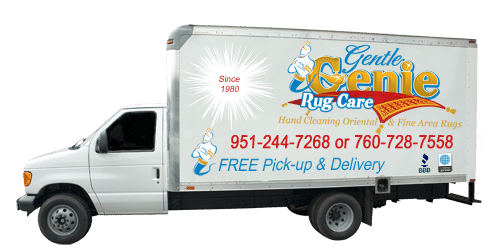 Oriental Rug Cleaning
Improper cleaning is one of the most common causes of Oriental rug damage. These carpets should be washed by hand in cold water, without harsh chemicals. Basically, the same method that's been used for thousands of years. Although time consuming, this approach is required to preserve these beautiful fine textiles.
Oriental rug cleaning experts advise against any in-home cleaning, particularly for hand-knotted textiles. Many oriental area carpets are made of silk, wool, or a combination of silk and wool. It takes a trained eye to determine the exact materials, and experience to choose the precise shampoo formula and process.
Persian Rug Cleaning Murrieta
Persian carpets are primarily wool, often with the addition of silk, cotton and metal threads. As with all wool products, it's vital to remove all shampoo residue and then (just like your hair) provide conditioning for luster, softness, and vivid colors. This also applies to Navajo rug cleaning.
These rugs are an essential part of Persian culture and art, drawing from ancient designs and techniques. A true Persian is made in Iran, but high-quality "imitations" are now available from countries such as India, Pakistan, Turkey, and China. In Iran, they're made by huge numbers of individual weavers; each is unique. These one-of-a-kind handmade creations deserve the best Persian rug cleaning to last a lifetime, and beyond.
Navajo Rug Cleaning in Murrieta
Navajo rugs are made of wool. Traditional Navajo textiles use water-soluble dyes and require extremely careful methods to minimize color bleeding and fading. Many detergents are alkaline and degrade wool. Furthermore wet wool is heavy and improper handling can lead to stretching and strains. As anyone who's washed woolens at home knows, agitation can lead to felting, a change of texture and appearance, and blocking is required afterwards. Because of the natural dyes, washing must be with cold water and carefully monitored. Mordants and other dye-setting compounds should be used to reduce color loss.
Certain types of Navajo blankets (rare classic and transitional blankets using fugitive dyes and "Germantown" blankets) as well as those which already have some color bleeding need multiple cycles of very gentle washing and controlled-duration sun exposure.
Silk Rug Cleaning
Silk floor rugs are indeed treasures. Made of a natural fiber produced by silkworms, these carpets refract and reflect light for shimmering elegance. These rugs are smooth and lightweight with colorful intricate designs that require special care. They're easily stained, and shouldn't be used in high-traffic areas. Fading and damage to the embroidery can't be fixed.
Silk is a strong fiber, but is easily damaged by improper cleaning — no abrasive cleaning agents, no hot water, no steam cleaning. "Silk" rugs may in fact include wool or cotton; this makes a big difference in how they should be treated.
We're the local silk rug cleaning experts in Murrieta.
Area Rug Cleaning in Murrieta
Whether antique or modern, a fine carpet is a work of art and deserves the best of care. Unlike wall-to-wall carpeting, area rugs are easily removed, allowing them to be cleaned and dried under the exact controlled conditions that each particular textile needs.
Your rugs should be professionally treated every two to three years, even if they don't look dirty. Regular washing protects your area carpet from accumulated dirt, dust, and sand deep inside. These gritty materials accelerate wear by actually cutting into the fibers; this in turn can promote mildew. In-home vacuuming just doesn't do the job and home-cleaning isn't recommended. Whether domestic or imported, special care is required for oriental, silk, and wool rugs (such as Persian and Navajo).
There are several critical steps in the area rug cleaning process.
First, careful inspection and testing is required to determine the proper procedure for each particular item. The correct selection of cleaning agents and methods depend on several factors. What types of fibers are used? What can and can't damage the particular dyes used? Is it machine or hand made? Are there any stains, tears, sun damage … residue from prior improper cleaning? Next the rug needs to be dusted to remove dust and dirt from the pile and fibers, then washed with cool water and a carefully selected shampoo or hand dry cleaned if necessary. After rinsing, natural air drying is preferred. This can take up to 48 hours and must be done carefully to avoid mold and mildew. Finally, it needs to be brushed for a soft and uniform texture and the fringe gets combed out to prevent tangles and breakage.
All this is well worth the cost. With professional care, a rug you love can last generations. Doing it yourself or hiring a generic carpet cleaner can backfire, reducing the textile's lifetime or even ruining it completely. So why risk it. For fine area rugs, always used a trained, experienced service with the right equipment and facilities.