Area Rug Cleaning Services Redlands, California
Whether or not it's already a family heirloom, a fine area rug is a major investment that can last for generations with the proper care.  It's often an irreplaceable part of a room's decor in your Redlands home.  Regular vacuum cleaning isn't nearly enough to remove deep-down dirt that cuts info fibers and causes permanent damage.  Professional cleaning avoids unnecessary wear, restores stiff brittle fibers, and removes allergens.
But Persian, Oriental, and other fine rugs should never be hot steam or bonnet dry cleaned.  And most should never be machine washed.  They're simply not like wall-to-wall carpet.  Their natural fibers can shrink and curl and harsh cleansers can leave them dry and brittle, yellowed, dull, or faded.  Many use natural dyes that can bleed or even be washed away.  Applying special training and unique equipment we individually clean each item thoroughly, but gently.
Our Redlands rug cleaning services are tailored to each item we treat, whether contemporary designer rugs or valuable antiques. Our expertise includes Chinese, Indian, Navajo, Oriental, Persian, tribal, Tibetan, and Turkish rugs as well as tapestries and needlepoint rugs.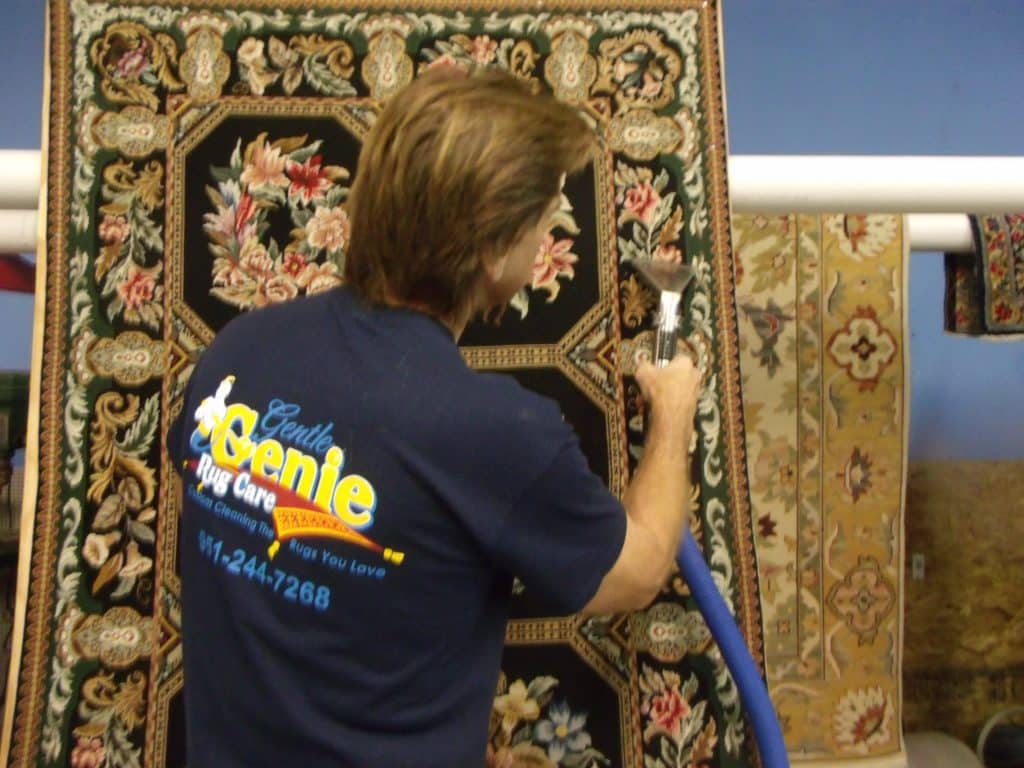 Our Redlands Are Rug Cleaning Services
Full immersion cleaning using time-tested procedures and products as recommended by experts, merchants, and museums.
Dry cleaning by hand for silk and jute fibers as well as man-made fibers such as silk and banana silk (these can't be immersion cleaned).
Dusting for between-washing maintenance to remove allergens and abrasive fibers that may not be visible.
Pet urine treatment to remove stains and odors as well as organics that can breed bacteria and insects.
Allergy treatment using natural products to minimize dust, pollen, and dander for allergy suffers.
Moth and pest treatment to remove eggs and their larvae that feed on textiles.
Soil and stain protector to stay fresh and clean longer, using products matched to the type of fibers present.  You'll have more time to blot spills and get better results at the next cleaning.
Rug padding offers more than improved comfort.  Absorbing footsteps it reduces wear.  It also avoids shifting, curling, and wrinkling.  We use only quality felt padding, never synthetic materials that accumulate interfere with cleaning.
Tea washing is often used to impart an antique look, especially on the fringe.  It's frequently necessary to re-apply tea washing from time to time.
Preparation and storage involve cleaning, drying, applying insect retardant, and wrapping.  You can store at any facility of your choice, including our own.
We don't do rug repairs ourselves but can refer you to an expert's services.  Similarly, we can refer you to a professional appraiser for insurance purposes.

Our Cleaning Process
We're proud of our 8-step cleaning process and would like to explain how we attend to each rug individually.
Pre-inspection lets us understand the type of fibers and weave, the pile density, overall condition, and other factors.  We also test for colorfastness.  This lets us determine the details of the best cleaning process.
Dusting is actually the most important step, removing the bulk of dust, dry soil, and particulates before they have a chance to clump and adhere during washing.
Cleaning itself is via immersion in our custom "bath."  Gentle products and washing only one rug at a time prevents color loss and crossover.  Some fibers require dry cleaning.  We perform that service by hand only.  We'll also take care of any stain and spot removal.
Rinse with soft water so there's no minerals nor chlorine.  We'll continue rinsing until the water is completely clear, leaving no residues that can cause fading, discoloration, or wear.
Grooming carefully brushes with the pile's direction for a uniform texture and the best appearance.
Drying begins horizontally so colors don't bleed.  We next hang them in our custom drying room with thermostatically controlled heating and fans.  An accurate moisture measurement lets us know when the process is complete.
Post-inspection assures that your rug is as clean as possible.  We'll repeat any steps as necessary and finish with a post-dusting and vacuuming so that there's no particulates remaining.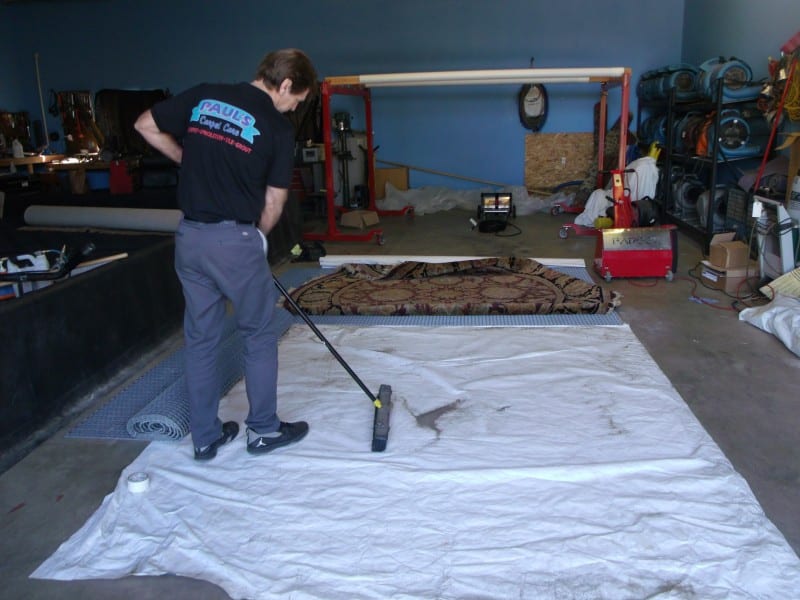 Choose Gentle Genie
We're certified rug care professionals, staying up to date with continuous education and participating in professional estimates such as ACRS, IIRC, Rug Hub, and the Rug Lovers College. Low-cost pick-up and delivery is available.  Our you can visit our local custom studio.
Noteworthy Redlands, California
Located 7 miles from San Bernardino (10 miles by car), Redlands reached an estimated population of 71,586 in 2018.  The city has the distinctive honor of being the location for the first 3-phase electric transmission line in the entire world.  Construction began in 1892 and a year later the power plant was delivering electricity to some 1,500 Redlands homes although at only a few hundred watts each.
Our Recent Projects