Quite simply, some rugs deserve protection and preservation.  They may be a central part of your room's decor in Pala, a family treasure, or an important tradition.  Regular cleaning is critical, as dust and grime get trapped deep down below where vacuuming can reach.  Besides dulling the appearance, abrasive particles cause a great deal of unnecessary wear.  But unlike synthetic and wall-to-wall carpet, fine area rugs should never be steam cleaned or machine dry cleaned.
We're Pala's experts for historic, heirloom, and contemporary rugs needing special care.  We treat each as an individual, tailoring our processes to its unique characteristics.  Our expertise includes tribal rugs as well as silk and other wool rugs.  Along with antique, Chinese, contemporary designer, horse blanket, needlepoint, Oriental, Persian, tapestry, Tibetan, and Turkish.  We'll make sure they look their best and last for generations.
Our Full Range of Pala Services
As highly trained rug-care technicians we offer a full range of services.
Allergy Treatments use natural products to reduce dust, pollen, dander that can contribute to allergies.
Appraisals need to be done by a specialist.  We can refer you to someone in our network.
Dry Cleaning is necessary for special fibers and special problems. That includes delicate natural silk and jute as well as man-made fibers such as art silk, banana silk, bamboo-based fibers.  We perform only hand dry cleaning using various methods customized to the particular fiber.
Dusting removes abrasive particles vacuuming can't reach.  Even if your rug doesn't appear soiled, dusting in between cleaning reduces wear as well as removes allergens and irritants.
Moth and Pest Treatments eliminate  insect eggs along with their larvae that feed on natural fibers.  Adult insects rarely damage textiles.  But if you see adult insects there's almost certainly eggs and larvae as well.
Pet Urine Treatments use products specially formulated for each type of fiber to remove odors and stains.
Padding reduces the hazards of shifting, curling, and wrinkling as well as reduces wear.  We can add or replace padding with high-quality felt that doesn't accumulate grime as some synthetic products do.
Preparation and Storage protects your rug when it's not in use.  We'll inspect, clean, dry, and insect treat your rug before wrapping it and storing at our location (or yours).
Minor Repairs can be made by our staff.  Otherwise we'll refer you to a specialist in our network near Pala.
Soil and Stain Protection is applied as recommended by contemporary manufacturers or as indicated by know-best methods for traditional rugs.
Tea Washing restores the darkening stain often used to give fringe an antique look.
Our 8-Step Immersion Cleaning
Our full-immersion cleaning process combines the latest understanding of museums and cleaning industry experts with time-tested methods.  It's recommend for most speciality rugs except for those subject to damage or color-bleeding in water.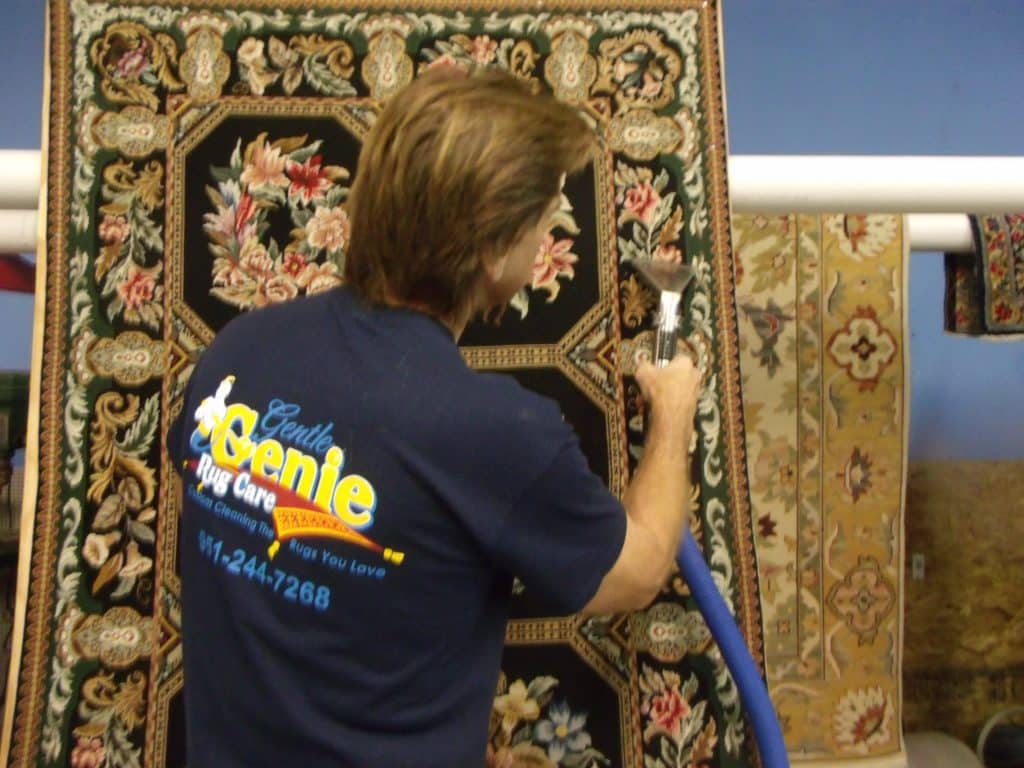 Pre-Inspection determines the fiber type, pile density, and weave.  We also measure the rug and assess its overall condition along with testing for color-fastness.  All this lets us determine the exact type of cleaning for each individual rug.
Dusting is an important pre-cleaning step.  Dust, dry soil, and other particulates can cake, interfering with washing as well as grinding against textile fibers.  We use a Rug-Badger duster then vacuum both sides.
Odor Removal — if indicated by our inspection we'll neutralize pet, smoke, mildew, and other odors using special treatments optimized for each problem and each type of rug.
Cleaning itself occurs in a custom custom bath with purified water and gentle products, with extra attention to colors.
Rinsing in flowing, filtered water with no chlorine.  It's like traditional river washing and continues until no residues are left behind.
Grooming involves brushing along the direction of the nap for the best appearance once dried.
Drying begins with the rug horizontal for extra color protection.  We next hang it vertically in our climate-controlled drying room.  It remains there until sensitive tests show the optimal moisture content.
Post-Inspection assures that your rug is thoroughly clean and that everything is as it should be.  We'll repeat any steps as necessary, then finish with a second dusting to be extra-sure.
Why Pala Residents Choose Gentle Genie
We're a 100% family-owned local business near Pala.  We treat each and every rug as a treasure in our local custom studio.  Always individually, always thoroughly yet gently.  Our IICRC certified rug technicians have superior training and superior technology for superior results. You can count on us for expertise, integrity, and courtesy.
Pala?
Pala is a "census designated place" rather than an incorporated city.  It's been debated whether its name comes from Cupeno or Luiseno "pal" for "water" or Spanish "pala" for shovel.  "Shovel" seem to fit, as the area is known for its mineral treasures.  Shortly after the Mexican-American war, mining shifted from gold to tourmaline.  Pala's tourmaline was especially treasured by Chinese Dowager Empress Qing, leading to its popularity in the early 1900s.
Our Recent Projects