Orange County's Best Rug Cleaning Service

Your Premier Area Rug Care Professionals (949) 208-7332
Schedule Your Pre-Wash Inspection and Quote Today!
We Wash Fine Area Rugs, One at a Time, By Hand.
At Gentle Genie Rug Care, we are deeply committed to preserving the integrity and beauty of your cherished area rugs. Serving the vibrant community of Orange County, we take great pride in our tradition of providing high-quality area rug cleaning, Persian rug cleaning, wool rug cleaning, as well as comprehensive area rug repair and restoration.
Stepping into a home that features an elegant area rug is a singular experience. These statement pieces are expressions of personal taste, memories, and connections to different cultures. However, without proper cleaning, their allure can fade over time. This is where Gentle Genie Rug Care shines. Our specialized area rug cleaning services in Orange County are designed to revive the grandeur of your rugs, letting them once again be the centerpiece of your home.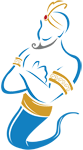 Persian Rug Cleaning
Persian rugs, the epitome of artistry and craftsmanship, require delicate care. Their exotic charm, rich history, and intricate designs have made them an enduring favorite among discerning homeowners. At Gentle Genie, our expertise in Persian rug cleaning in Orange County ensures that your prized heirlooms retain their beauty and value. Our technicians, armed with knowledge about Persian rug fibers, dyes, and weaving techniques, adopt the most suitable cleaning methods to maintain the integrity of your rug while removing dirt, stains, and odors.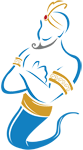 Wool Rug Cleaning
Wool rugs add warmth and cozy elegance to any living space, yet they can be magnets for dirt and allergens. Our wool rug cleaning services in Orange County provide deep cleaning solutions that maintain the rug's structural integrity and vibrant colors. Our eco-friendly cleaning agents delicately remove dirt and grime, leaving your wool rugs clean, refreshed, and soft to the touch.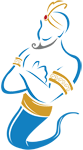 Rug Repair & Restoration
What happens when your treasured area rug gets damaged or worn out? Gentle Genie Rug Care has a robust solution: area rug repair and restoration. Whether it is a minor fringe repair, color restoration, or a complete overhaul, our seasoned experts can return your rug to its original splendor. Our Orange County clients have repeatedly praised us for breathing new life into their aged, worn-out rugs, reaffirming our commitment to preserving their rugs' heritage.
At Gentle Genie Rug Care, we believe in the harmonious blend of tradition and technology. We use traditional rug cleaning techniques honed over generations, amplified by modern cleaning technology to provide unparalleled service quality. Every rug we clean, repair, or restore in Orange County is a testament to our unwavering dedication to keeping the legacy of these beautiful floor coverings alive.
In a world where mass-produced rugs have become ubiquitous, owning a unique, handcrafted rug is a distinct pleasure. Gentle Genie Rug Care in Orange County is here to ensure that your rugs, whether they are luxurious Persian pieces, cozy wool rugs, or versatile area rugs, continue to enchant your home with their timeless elegance.
We Offer A Full Range of Services
Full Immersion Cleaning

Dry Cleaning

Dusting

Pet Urine Treatment

Allergy Treatment

Moth & Pest Treatment
Soil & Stain Protector

Rug Padding

Tea Washing

Preparation & Storage

Rug Repairs

Rug Appraisals
Recent Reviews
Gentle Genie Orange/Riverside County Rug Drop-Off Location
Irvine
17815 Sky Park Circle, Suite B Irvine, CA 92618
Riverside
1660 Chicago Avenue, Suite P17, Riverside, CA 92507
Our Recent Projects In Orange County
Why Choose Gentle Genie Oriental Rug Cleaning?