Oriental and Fine Area Rug Cleaning Service in La Jolla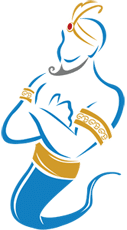 Many of the luxurious homes here in La Jolla have fine rugs that deserve the best of care. If that's you, Gentle Genie is you local professional for area rug cleaning. We're experts in Oriental rug cleaning, Persian rug cleaning, and a range of other textile cleaning specialties.
Industry experts recommend cleaning every two to three years, regardless of appearance, by well-trained and experienced technicians. Grit and grime penetrate deeply into rugs, and are not removed by vacuuming. That grit is the major cause of carpet wear, as its sharp edges cut into fibers. Grime and even moisture can also lead to problems. Improper cleaning can actually make these problems worse, or even directly damage your fine rug.
Handmade area rugs are indeed art treasures of exquisite beauty, that you've carefully selected for your home. You'll want to protect them and preserve their appearance, so that they will last a lifetime and in to the next generation. That calls for the absolute best rug cleaning service. In La Jolla that's Gentle Genie. We practice the highest cleaning standards in full accordance with the CleanTrust and we maintain an A+ rating with the Better Business Bureau. When you call us, you can expect the very best cleaning and care for your rug!
Gentle Genie Area Rug Cleaning La Jolla
We're 100% family owned and operated. Paul Schleuniger has been serving the area over 30 years as Paul's Carpet Care. Recently he has been specially trained and mentored in caring for fine and specialty area rug cleaning. He has attended numerous courses, workshops, and conferences. He is a member of several professional organizations and is an IIRC Rug Certified Technician. Together with his wife he founded Gentle Genie and constructed its special cleaning studio, and together they are dedicated to providing the best rug cleaning services in La Jolla.
We're experienced experts in Oriental rug cleaning and Persian rug cleaning, as well as in silk and Navajo rug cleaning. We follow a detailed 8-step process, summarized here.
Inspection. We carefully examine existing condition and determine the type of pile and weave. Most importantly, we determine the exact mix of fibers and test the dyes.
Dusting. This important step removes the surprising amount of dust that remains in textiles even after proper vacuuming.
Odor removal. The cleaning process may not completely remove pet, smoke, mildew, and other odors so we specifically treat for them.
Cleaning. Sometimes by-hand dry cleaning is called for, but we usually perform submersion cleaning in water. We use products customized for the characteristics we identified during our inspection, and wash only one rug at a time.
Rinse. Gentle Genie uses chlorine-free soft-water water rinsing. Continuously running water assures that there will be no residue left behind. Residue can lead to premature re-soiling, fading, or discoloration.
Grooming. We brush the fibers in the correct direction for the best appearance and a uniform texture.
Drying. Our two-step process begins with the rug laid flat to minimize color bleeding. We then hang it vertically in a climate-controlled drying room for one to two days. Testing by a moisture meter tells us when your rug is completely dry.
Post-Inspection. Finally, we'll perform another inspection, and repeat any steps as needed until your fine rug is perfectly clean.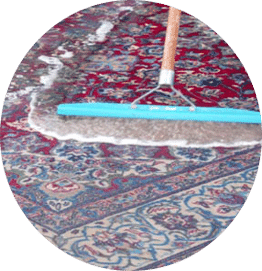 Oriental Rug Cleaning La Jolla
The textiles used often include silk and/or wool, and traditional Oriental rugs are hand knotted. They all require special care by a truly knowledgeable rug cleaning service. In La Jolla, that's Gentle Genie. Whether antique or modern, improper Oriental rug cleaning is the leading cause of damage for this type of carpet. In-home cleaning is out of the question. We use the recommended time-consuming method of hand washing in cold water, with mild cleansers and proper conditioners. This is the only way to assure that these artistic wonders will retain their beauty and last through generations.
Persian Rug Cleaning
Carpet weaving is an important part of Persian culture and art. The best come from Iran, where over 1 million hand-weavers create these beautiful textiles. Each is a one-of-a-kind creation, deserving of the very best in area rug cleaning.
In addition to wool, these fine rugs may contain silk, metal thread, and cotton. They may utilize different types of wool, and sometimes even camel hair. It's easy to see why understanding the exact make-up of your fine carpet is critical. Most people know that wool needs special treatment during cleaning and drying, including conditioners to keep the wool from becoming brittle. Gentle Genie is the La Jolla local expert in Persian rug cleaning.