Moreno Valley, California Area Rug Cleaning
Area rugs should not be cleaned the same way as well-to-wall carpet.  Whether antique or modern, of natural or synthetic fibers, hand woven or machine made they need special care.  Our experts are uniquely trained and fully qualified for oriental rug cleaning, Persian rug cleaning, and cleaning just about any type of fine area rug. For your convenience, we offer free pick-up and delivery in Moreno Valley.
It's about more than just appearance.  Going beyond vacuuming, professional cleaning removes deep-down dirt that cuts fibers as well as removing allergens and irritants.  So don't wait until your treasures appear soiled or discolored.  Most deserve professional cleaning about once a year.  And don't put it off.  We offer free in-home inspections as well as pick-up and delivery for Moreno Valley homes.
Moreno Valley Fine Rugs Cleaning
Antique, Chinese, contemporary designer, Navajo, Oriental, Persian, silk, wool — we know the special care that each need.  Even woolen horse blanket rugs and tapestries.  They should never be steam cleaned, endure bonnet-style dry cleaning, nor put into a rug washing machine.  Doing so can cause irreparable damage.
Our Immersion Cleaning Process
We use state-of-the-art equipment along with industry best-practices.  For most types of fibers and construction, full immersion cleaning is the best, mimicking how they've been cared for over the centuries.  Here's our 8-step process.  Every step is carefully adjusted to the particulars of the specific rug for the best in long-live and beauty.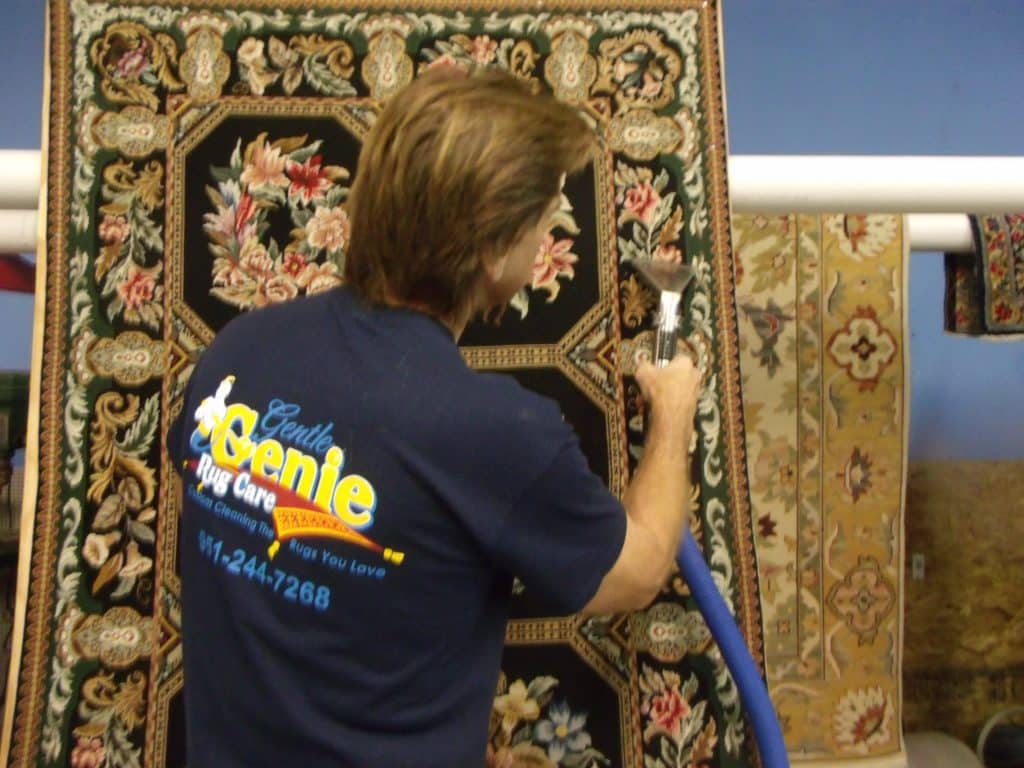 Pre-Inspection to determine the type of fiber, density, pile, and weave.  We'll test for colorfastness and carefully check for any damage or staining.

Dusting removes dry soil and other particulates to keep these out of the washing process.

Odor removal for pet, smoke, mildew, and mold odors.  We neutralize, not mask, the odor-causing compounds. 

Cleaning in cold water using the right products and the right procedures for each rug.

Rinse with running softened water so there's no residues, minerals, or chlorine.

Grooming by brushing in the proper direction, we achieve a uniform texture for the best visual appearance.

Dry begins flat so there's no color bleeding.  We'll then complete the process in a thermally-controlled drying room with frequent moisture-meter testing to tell us when it's complete.

Post-inspection makes sure your rug is as clean as possible.  We'll post-vacuum and dust as well as treat any remaining spots.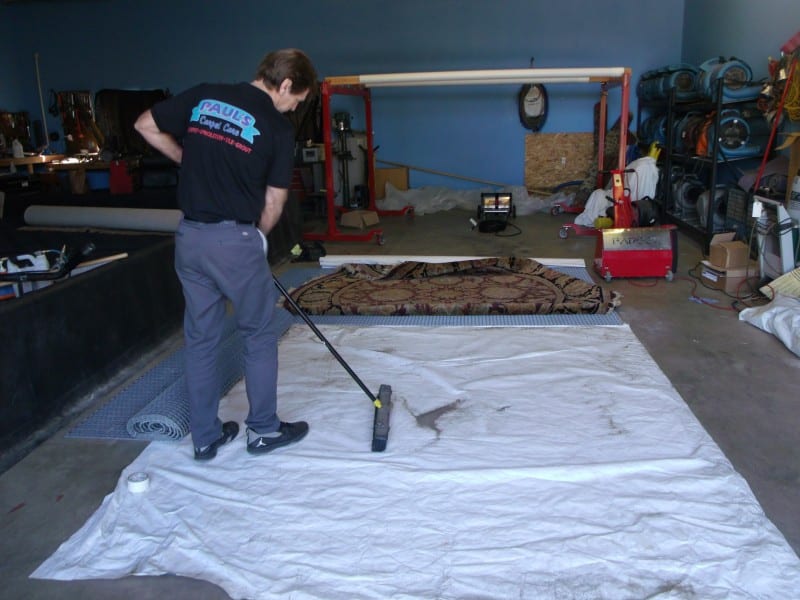 Choose Gentle Genie
Moving even a mid-sized area rug can be a task.  So we offer in-home estimates as well as pick-up and delivery in Moreno Valley.  A 100% family-owned local business each customer and each rug receives individualized services, with each important task performed by IICRC-certified rug cleaning technicians.  Our founder is a recognized as an expert by the Academy of Oriental Rugs and maintains continuing education and professional memberships in organizations such as ACRS, IICRC, the Rug Hub, and the Rug Lover's College.
Are you away for the summer, vacationing, or remodeling?  Our preparation and storage services thoroughly dry, apply insect retardant, and carefully wrap each individual rug.  We'll then periodically check their condition.  You may use your own storage location or use our custom facility.
Need rug repairs?  We perform simple repairs ourselves, but our expertise tells us when to defer to repair specialists.  That often includes damaged or missing fringe, pile tears, holes, loose backing or binding, dye problems, and moth damage.  We'll get several quotes and facilitate the process for you.
Need an appraisal?  Valuable rugs require an additional rider on homeowner insurance policies.  We don't make formal appraisals ourselves but have convenient access to experts who do.
Additional Services
We provide a full range of services to keep your fine rugs at their best.
Allergy Treatment  We can apply special non-allergenic products to remove and guard against further dust, pollen, and dander.
Dusting  Washing is quite involved. So even if they're not visibly soiled we recommend dusting between cleanings to remove abrasive particles that cut into fibers before they have much chance to cause wear.  Dusting also removes allergens.
Moth and Pest Treatment  Moths and most insects don't damage textiles.  But their larvae do, feeding on animal fibers such as silk and wool as well as on food stains and grime.  Our treatments kill eggs as well as larvae, avoiding return problems.
Pet Urine Treatment  Fine rug specialists, we use unique products to gently but thoroughly remove pet urine and its odor.
Rug Padding avoids shifting, curling, and wrinkling for safety as well as for appearance.  It also cushions fibers, reducing wear, and protects the underside from dirt.
Soil and Stain Protector  Many natural fibers benefit from applying a stain and soil protector.  It makes spills easier to blot away and promotes better results during cleaning.
Tea Washing tints fringe and rugs for an antique look.  But that coloring may not be stable with washing.  If so, we can re-apply tea washing.
Moreno Valley, California Notes
"Moreno" is Spanish for "brown," about Frank Brown of the Bear Valley Land and Water Company that founded Moreno CA.  First established in 1850, Moreno Valley hosted the US Army March Air Field in World War I.  The city experienced rapid growth in the 1980s through the 2000s.  From a starting population of 18,871 in 1970 the city reached 193,365 residents in 2010.  That's an average growth of 6% per year.
Our Recent Projects