Oriental and Area Rug Cleaning Rancho Santa Fe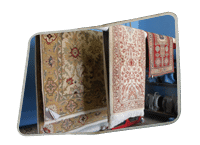 Whether purchased new or acquired used, specialty rugs are a treasured addition to any home. Oriental, Persian, and other specialty rugs require gentle maintenance in order to maintain their integrity and value over time. Gentle Genie Rug Care, in Rancho Santa Fe, is a rug cleaning service that employs a team of experts who are specially trained to hand clean a variety of rugs. We offer in-home estimates and consultations in order to ensure the highest quality of care for your treasure at our rug care studio. We offer a complete range of services for the life of your specialty rug.
Cleaning Your Specialty Rug
The experts in our rug care studio will hand treat your rug with the utmost care in order to clean it. Your rug is unique and deserves unique care. That is why we, at Gentle Genie, offer cleaning services that are specifically designed to treat your rug as it was meant to be. Our immersion cleaning mimics the river-washing that quality rugs have been treated with for centuries. If your Oriental or Persian rug is too fragile for immersion cleansing, we also offer dry cleaning designed to thoroughly clean, groom, and dust your rug.
Preserving Your Treasure
Quality rugs require quality care at regular intervals. Gentle Genie Rug Care does not just clean your rug, we have also developed services meant to preserve your area rug for years. Services include a soil and stain treatment that will help to prevent stains and make for easier spot cleaning in your home, as needed. Area rug cleaning includes dusting which prevents the rug from becoming dirty too quickly and also helps to remove irritants that may cause allergies. With no worries about small stains or allergies, our preservation treatments will help you to enjoy your rugs, worry free, for many years.
Repairing and Restoring Rugs
In the event that your specialty rug suffers damage, Gentle Genie Rug Care can help. We are able to treat pet odor and stains, including urine and to apply a protectant that will minimize future incidents. Pests can also damage your rug, and many times, once you are aware of their presence, it is too late. We treat your rug in order to remove any present pests and to retard their ability to settle into its fibers once you bring it back home or place it into storage.
Appraising and Storing your Rug
If you are looking to store your rug for any reason, Gentle Genie offers services to prepare and store your fine item. To prepare for storage we clean the area rug, treat to eradicate and prevent pests, and seal the specialty rug in a protective wrapping. The rug can then be stored in your home (in a cool, dry place) or in our on-site storage facility. If you would like your rug appraised at any time, we can assist by connecting you with one of our affiliated appraisers who are experts in Oriental, Persian, and other rugs.
Our experience with rugs spans the globe. We've cleaned rugs from every continent and we have a thorough grasp of exactly how to care for specialty rugs. Want to learn more about caring for you rug? Download a copy of our free rug cleaning guide. Gentle Genie Rug Care is renowned for its services throughout Rancho Santa Fe. Give us a call today to get the best cleaning that your rug has ever had!