Professional Rug Cleaning Hemet, California
A professional rug cleaning in Hemet is about much more than a better appearance.  Even with regular vacuuming, they accumulate sharp-edged dust particles that cut into fibers and cause unnecessary wear.  They also still harbor allergens and irritants.  And perhaps even odors, bacteria, and invisible insects.  They deserve and need, the best treatment whether they're antique, a family heirloom, or a treasured contemporary purchase.  They should never receive the same cleaning as a wall to wall carpet.  Steam cleaning, machine washing, and machine dry cleaning are likely to cause permanent damage.
Our team is extensively trained and uniquely qualified to give fine area rugs, hand-woven or machine-made, the special care they need to last for generations.  We're experts in antique, Chinese and Persian rugs, Navajo and tribal, Oriental and specialty rugs,  tapestries, and needlepoint rugs, Tibetan, Turkish, silk, and wool (including woolen horse blanket rugs).  Call us to schedule a complimentary in-home estimate.
Our Area Rug Cleaning Services
Full immersion cleaning for most types of fibers.
Hand dry cleaning for delicate silk, jute, art silk, banana silk, and processed bamboo fiber rugs.
Dusting should be performed more frequently than cleaning to remove damaging dust and allergens.
Special treatments for:

Pet urine stain and odor removal using unique product formulations,
Allergy products to reduce the effects of dust, pollen, and pet dander,
Moth and pest protection to break the cycle of eggs and larvae that eat natural fibers.

Soil and stain protector to keep rugs looking clean and fresh longer.  These treatments also make spills easier to blot and give better results at the next cleaning.
Padding as a shock absorber.  Perhaps more importantly, padding stops shifting, curling, wrinkling, and uneven wear.  It also protects the underside from dirt and dampness.  We use quality felt, never rubber or synthetics.
Tea washing to replace antiquing in fringe.
Preparation and storage for proper protection while you're on an extended vacation or away for the summer.  We'll inspect, clean, and dry your rugs before wrapping.  You can store them yourself or we can keep them at our facility.
We may repair minor damage ourselves, otherwise, we'll refer you to a specialist.  Similarly, we don't do formal appraisals but can refer you to someone who does.
Immersion Cleaning
Our full immersion cleaning process is the result of extensive study, training, and experience.  It follows the advice of experts and museums… and thousands of years of practice.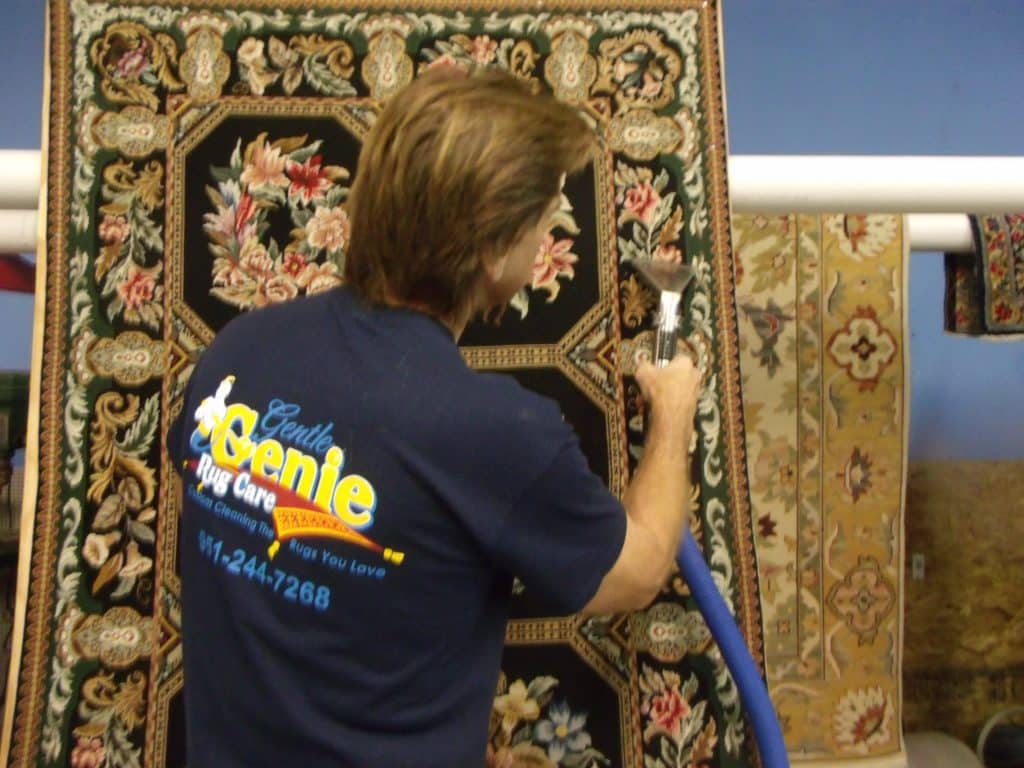 Inspect for the type of fiber, density of pile, type of weave, and country of origin.  We'll take measurements, assess the overall condition, and test for the color fastness of dyes.  Then take all that into consideration to tailor the process.
Dusting is very important in removing dust and dirt before it clumps or binds during washing. We use a combination of a vibrating dusting machine and vacuuming.
Odor removal for the trapped pet, smoke, mildew, and other types of odors any not removed by cleaning.
Cleaning by hand washing in cold water using mild pH balanced products.  Each rug is individually cleaned and never mixed with others.  We'll also take care of stain and spot removal.
Rinsing in flowing water until any and all residues are removed to protect against discoloration and to leave fibers soft and silky.
Grooming, brushing in the direction of the pile for uniform texture and appearance.
Drying starts horizontally to avoid any bleeding.  Next, hang them in a special drying room with forced air circulation and controlled temperature.  They remain until moisture meters show they're properly dry.
Inspect to assure they're as clean as possible, repeating any steps if needed.  Then a final vacuuming and dusting.
Hemet Residents Choose Gentle Genie
We're a local independent business and can provide pick up and delivery.
Our level of expertise and experience is rare in the Hemet area.  That includes ongoing education and participation in professional organizations and industry activities.  We care about quality and listen to our customers' concerns for cleaning services tailored to each individual rug.  Our methods are a careful combination of state of the art equipment, tested innovations, and tried and true techniques.
Hemet Highlights
You probably know all about the Ramona Pageant.  Started in 1923 it's one of the longest-running outdoor plays in the United States.  But have you taken the time to explore all the local points of interest?  There's Diamond Valley Arts Center, Diamond Valley Lake, Hemet Maze Stone, Hemet Museum, Hemet Theater, Ramona Bowl Amphitheater, Simpson Park, Western Science Center, and Wildflower Trail to name just the most popular.
Our Recent Projects