Oriental and Area Rug Cleaning Wildomar
Whether antique or modern, a fine area rug is a work of art to be treasured. To preserve them across generations they should be professionally cleaned every few years, even if they don't look dirty. Home vacuuming only removes surface dirt, not deep down dirt that can damage your carpet by grinding against the textile fibers during foot traffic. Normal shampooing can damage your treasures, and normal dry cleaning leaves a sticky residue that attracts dirt. Whether domestic or imported, special care is required for Oriental, and wool rugs (such as Persian and Navajo).You can find many do-it-yourself guides on the web, but do your really understand the details of your fine area rug and what that means for cleaning specifics? Did you know that "silk" rugs often contain wool? That you can't predict or prevent dye wash-out without exact testing methods and products to prevent bleeding?
Regular carpet cleaning companies just don't have the expertise and experience needed to treat fine area rugs properly.
Don't risk damaging your fine carpet by reducing its lifetime with the wrong cleaners or improper handling. Serious collectors and wise homeowners come to Gentle Genie Rug Care time and time again to maintain their investment. We have the training, expertise, experience, and equipment to do the job right. Just give us a call and we can provide a free six-step inspection and a free estimate.
We pride ourselves on our professionalism, skill and training and offer pick-up and delivery to make your life easier.
In Wildomar, we're the experienced experts in all types of area rug care:
Silk rug cleaning
Oriental rug cleaning
Persian rug cleaning
By hand dry-cleaning
Needle point rugs
Fine horse-blanket rugs
Tapestries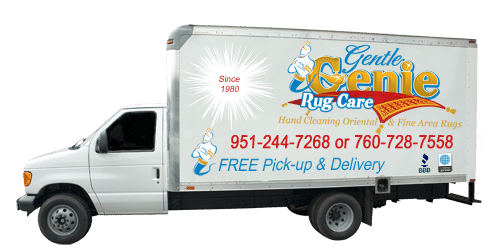 Wildomar Oriental Rug Cleaning
Carpeting experts advise against any in-house cleaning. The best Oriental textiles are hand knotted, are silk or a combination of wool and silk, and are easily damaged by improper handling, as described under Silk Rug Cleaning. Oriental rug cleaning should be performed in cold water by hand. No harsh chemicals should be used — only shampoos specially formulated for your rug's particular textile. Although time consuming, this approach is required to preserve these beautiful fine carpets and are worth the cost through extending the life of your oriental rug.
Wildomar Persian Rug Cleaning
These carpets are a central part of Persian art and culture, featuring ancient designs and techniques. Genuine Persian rugs come only from Iran. There, innumerable independent makers produce exquisite in-demand creations. Each rug is unique. Good quality carpets are also made in Turkey, Pakistan, and India. Persian rugs are classified into three main groups: Farsh or Qali (larger than 4 by 6 feet), Qalicheh (4 by 6 feet or smaller), and Gelim (a somewhat rougher-textured nomadic style).
Made primarily of wool, Persian rug cleaning requires thorough removal of all shampoo followed by a conditioner for vivid color, softness, and luster. Additional wool care issues are discussed below under Navajo Rug Cleaning and Care. Persian carpets may also contain silk and metal threads, necessitating additional requirements.
Navajo Rug Cleaning and Care in Wildomar
Made of all-natural materials and with simple processing, Navajo rugs require extra-special care and attention. They're particularly susceptible to color-bleeding and fading. Navajo carpets should be kept out of sunlight and even bright artificial light. The ultraviolet light from nearby fluorescent lamps can even be a problem. These area carpets should be kept away from exterior doors, open windows, pets, and plants. Their wool fibers often absorb odors from perfumes, food and cigarettes and are sensitive to humidity. So Navajo rugs should also be kept away from the kitchen, fireplaces, heating vents, and bathrooms and should not be hung on exterior walls. They should be regularly vacuumed on both sides to remove loose surface dirt and dust, as well as carpet beetle and cloth moth insects, eggs, and larvae. Vacuuming should be done on a flat surface with a nylon or polyester screen between the vacuum cleaner and the textile to protect loose fibers.
Beyond the wool treatment issues described above in Persian Rug cleaning, it's important to remember that wet wool is heavy. Improper handling can result in uneven stretching and even damage. If agitated during washing, felting can occur. This harms the texture and appearance.
Of greatest importance, the dyes used in Navajo rugs are often water-soluble. These specialty carpets are especially prone to color bleeding and fading. Every dye should be carefully tested before proceeding. They must be washed very gently in cold water with the right selection of shampoos specialized to Navajo textiles and dyes. Mordants and dye-setting compounds can reduce color loss. Washing is followed by controlled drying to get dampness out quickly while maintaining a balance of moisture. Moth-proofing is frequently applied.
Classic, transitional, and Germantown blankets are especially sensitive to color bleeding and require many cycles of especially gentle washing, often taking several weeks.
Silk Rug Cleaning
These area carpets are smooth and lightweight, with that special shimmer only silk has for a unique elegance. The best feature intricate designs in bright colors. Silk rugs can come from all over the world, but are typically made in western Asian countries such as Iran, Turkey, Persia, and Kashmir.
These carpets are more durable than you might think, but they are easily worn and are subject to stain and fading. Don't use them in high traffic areas, bright sunlit areas, or anywhere food or drink are common.
Why Choose Us
In Wildomar we're experts in Navajo, Oriental, and Persian rug cleaning and carefully examine your carpet's condition, construction and fiber such as wool, silk, cotton, and other textile content to choose the best course of action before we even begin. Gentle Genie has the training, expertise, experience, equipment, and facilities to offer you a full line of area rug cleaning services.
Dusting
Full-immersion cleaning
Hand dry cleaning
Special treatments – moth proofing, pet urine removal, anti-allergy
Floor padding
Preparation for storage
Stain and soil protection
We can also perform repairs and appraisals.
We pride ourselves on our top-quality service. We offer convenient hours as well as pickup and delivery.