Many people are surprised by what a difference our specialist services make.  And that makes us the the premier area rug cleaning service for Beaumont.  There's so many reasons to love and care for fine area rugs.  They can be works of art, with the entire room's decor designed around them.  Or a family heirloom that you want to protect for the next generation.  Or simply quality and design you really appreciate.
Our area rug cleaning service features gentle hand cleaning at our own local custom studio near Beaumont, whether domestic or imported, modern or antique.  In addition to Persian rug cleaning and Oriental cleaning we're well-trained and experts in a wide range of specialty rugs.  Antique, Chinese, Indian, Navajo, silk, Tibetan, tribal, Turkish, wool….  Even tapestry, needlepoint, and horse-blanket rugs.  And modern designer area rugs.
Unlike wall-to-wall carpet you should never hot steam or machine wash these treasures.  That often causes them to fade, bleed, or suffer physical damage.
Our Full Line of Beaumont Services
In addition to full immersion cleaning we offer a full range services.
Dry Cleaning  Delicate silk and jute fibers as well as rugs with unstable dyes can't be water washed.  The same goes for man-made Art Silk, Banana Silk, and processed bamboo fibers.  These need to be dry cleaned by hand to avoid damage.
Dusting.  Vacuuming doesn't remove deep-down dust.  And its jagged particles cause extra wear that reduce lifetimes.  Even if not visibly soiled area rugs should be dusted at least once a year, preferably more often.  That also greatly reduces irritants and allergens.
Pet Urine Treatment for even the most delicate textiles.
Allergy Treatment to reduce dust, pollen, and dander.  We use unique natural products.
Moth & Pest Treatment  It's not insects but rather their larvae that eat away.

 

To prevent that and break the cycle we remove invisibly small eggs and larvae and apply an eco-friendly retardant.
Soil & Stain Protection are highly recommended by makers to keep rugs looking clean and fresh longer.  They also give you a bit longer to blot up spills.
Rug Padding isn't just for comfort.  It greatly reduces slip, curl, and wrinkling for safety and reduced wear.

 

Rubber or synthetic padding should never be used as it doesn't "breathe" and easily becomes dirty.
Tea Washing is sometimes used to impart an antique look to a rug and its fringe.  If that washes out, as it often does, we can re-apply it.
Preparation & Storage for summer, travel, or other away time protects these works of art.  Our service includes cleaning, drying, applying insect retardant, and wrapping.  It's then ready for storage at our facility (where we make periodic checks) or at a location of your choice.
Rug Repairs are best left specialists.  We can manage minor repairs but will refer you to someone for significant damage.
Rug Appraisals for insurance or other purposes require another special breed of experts.  We may give you a general idea, but will refer you to someone for a formal appraisal.
Our Immersion Cleaning Process
We're proud of our 8-step immersion cleaning process.  It uses the same cold-water hand-washing techniques as museums… and a thousand years of tradition.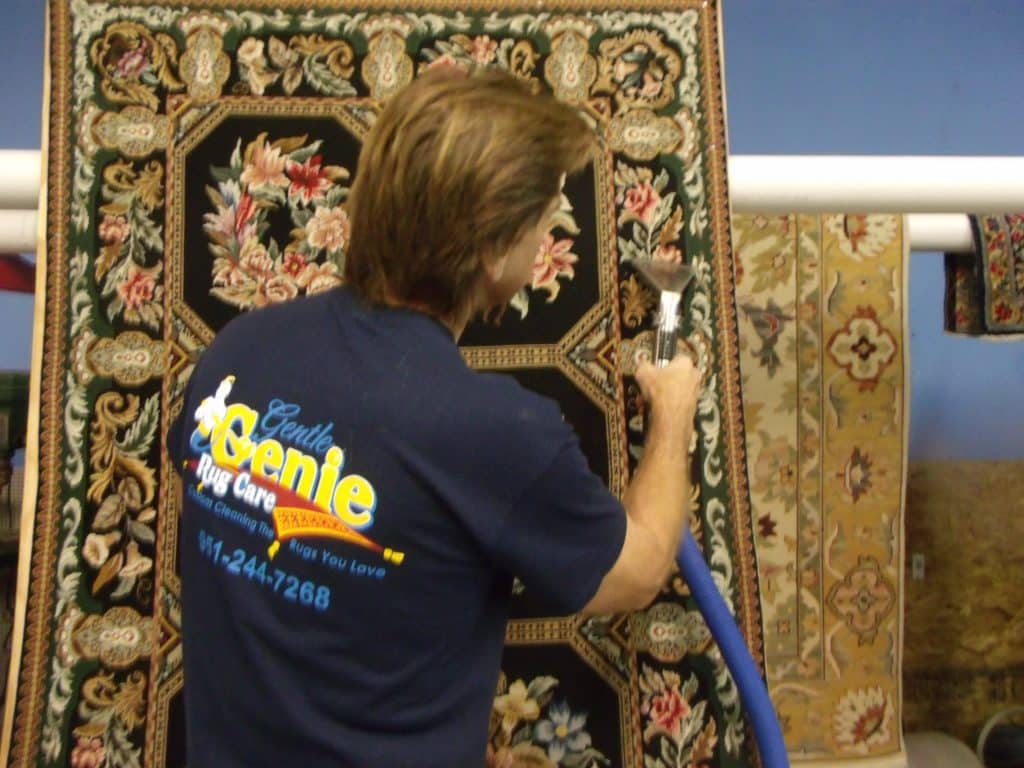 Pre-inspection to determine the type of fiber, pile density, type of weave and overall condition.  We also test color fastness.
Dusting is actually the most important step, removing soil before it cakes during washing.  We use a special vibrating dusting machine, followed by thorough vacuuming on both sides.
Odor removal (not masking) as needed for pet, smoke, mildew and other odors that aren't removed by normal cleaning.  We use specialized, gentle products.
Cleaning, adjusted for different fibers and constructions.  Always by hand, always one at at time to avoid transfer, using pH balanced cleansers.  We'll also attend attend to stain and spot removal.
Rinsing using soft water without chlorine. We "river rinse" with constantly flowing water until it's absolutely clear with no residues to cause fading, discoloration, erosion, or premature re-soiling.
Grooming involves brushing in the direction of the pile for a uniform texture and light reflection for maximum beauty.  We also de-tangle and arrange fringe.
Drying begins with rugs laid flat to avoid bleed and browning.  Next they're then hung in a thermostat-controlled drying room with gentle air circulation.  We use a moisture detection probe to determine when the process is complete.
Re-inspection to make sure it's as clean as possible.  If not we'll repeat steps as needed .
Why Beaumont Residents Choose Gentle Genie
Locally owned, we offer a complimentary in-home 6-step inspection and estimate.  Our many long-term customers appreciated the personalized attention they and their rugs receive from our dedicated, responsible, and courteous staff.  We use state-of-the-art equipment and environmentally-safe products.  And we can pick up and deliver in Beaumont.  Our team of experts is always up to date through continuing education and professional memberships as well as participation in trade shows and research projects.
Beautiful Beaumont
Incorporated in 1912, "Beaumont" is French for "beautiful mountain."  By 1927 the population had only reached 857 people, with the economy mostly apple growing and dehydrating.  In the latest estimate (2017) the population has grown to 46,797, including many master-planned communities.
Our Recent Projects