Encinitas, CA Fine Area Rug Cleaning Services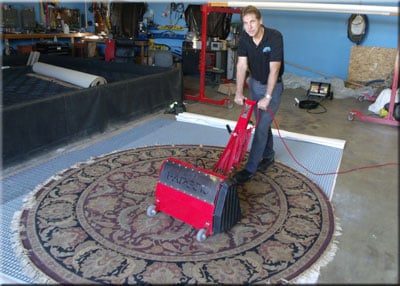 Do you need quality carpet care in Encinitas?  Call Gentle Genie for all your Oriental rug cleaning, Persian rug cleaning, and other by-hand carpet cleaning needs. We're the area experts.
Improper washing is among most common cause of damage for these works of art.  In-home washing is out of the question.  Steam, hot water, and many carpet-cleaners are known to cause damage, and special facilities are required for proper hand washing, thorough rinsing, and controlled drying.
Owner Paul Schleuniger has spent years learning safe traditional practices, and is now dedicated to superb care of these artworks.  He is an IICRC Rug Certified Technician and has received specialized training from well known names in the profession from around the world.  He stays involved and up to date with continuing education and professional memberships.
Gentle Genie is 100% family owned, and we hold ourselves to the highest standards.  Our custom studio features state of the art equipment and we always follow best practices in area rug cleaning and conservation, with no machine washing nor harsh chemicals.  We follow a detailed 8-step process involving
thorough pre-inspection of textile fibers, construction, stains and other conditions as well as the testing of all dyes
dusting to remove as much loose soil that might hinder washing as possible
gentle hand-cleaning tailored to our inspection findings
thorough running-water rinsing to remove all detergent residue
grooming to restore the proper texture
carefully controlled and monitored drying
post inspection
We're happy to come to you to provide a free in-home estimate for bringing your fine area carpets back to life and keep them lasting for generations to come.
Oriental Rug Cleaning in Encinitas
Whether modern or antique, you'll want the best in oriental rug cleaning to preserve their unique beauty and intricate designs.  Oriental carpets may be made of only silk, or in various combinations with wool and cotton.  Silk is strong and lustrous, but easily damaged by inadequate or improper washing.  Like any carpet, abrasive dust and dirt grinds and cuts textiles, and is actually the cause of damage from foot traffic.  So regular oriental rug cleaning will indeed prolong their lifetime.
Persian Rug Cleaning in Encinitas
These fine carpets are also part of ancient traditions worthy of preservation through expert Persian rug cleaning.  True Persian rugs are made by countless local artisans so each is genuinely one-of-a-kind.  Your carpet may be classified as Farsh or Qali (large), Qalicheh (small), or Gelim (nomadic).  Made of various mixtures of wool, silk, and metal threads, their high wool content needs special attention.  Persian rug cleaning must include proper conditioning treatments so that the wool fibers don't become dry, brittle, and easily damaged.  Again, professional hand washing keeps them looking their best and lasting their longest.
Our Other Fine Area-Rug Cleaning Services
In addition to Persian rug cleaning and Oriental rug cleaning, we also offer specialized washing for
Navajo rugs and other tribal rugs, with special care for their natural dies
cleaning for Tibetan, Turkish, and Indian carpets
silk and wool rug cleaning
extra-care hand washing for antique and designer area rugs
Our specialized services include storage preparation, tea washing, dry cleaning for silk and jute as well as allergy, urine, odors, moth and pest, and soil and stain protection treatments.
A Bit About Encinitas California
Some 25 miles north of San Diego, at the latest census (2010) Encinitas' population was 59,518.  Our city is composed of many great communities, including Cardiff-by-the-Sea, Leucadia, New Encinitas, Old Encinitas, and Olivenhain and hosts numerous events from Oktoberfest to the Lima Bean Faire.  Encinitas' famous residents have included actor Richard Dreyfuss,  musician Joe Walsh, actor Charlie Chaplin, sports legend Tom Dempsey, and of course Jerry Mathers as The Beaver.