Poway Fine Rug Cleaning Professionals
Fine area rugs demand the best of care, and that means washing individually by hand.  Whether antique or contemporary designer, imported or domestic, any thing less risks permanent damage.  They should never be steam cleaned or machine dry cleaned.  So why risk cleaning at all?  Dust and other contaminants accumulate below where vacuuming can reach.  Their sharp edges cut into fibers causing premature wear.  Your treasures also start looking dull or dingy, and can even develop odors.  That accumulated dust and microscopic debris can also worsen indoor allergies.  Our professional rug cleaning services in Poway clean, rejuvenate, and protect your treasures.
Our experience and expertise includes a range of speciality area rugs:  Chinese and other oriental, horse blanket, Indian, Navajo and other native, needlepoint, Persian, silk, tapestry, and Tibetan rugs.
Our experts restore the beauty of the area rugs you've chosen as an important part of your Poway home's decor, and help them last for generations.
Our Poway Services
Our cleaning services feature full-immersion in purified cold water with mild cleansers and other gentle products.  Our full line of rug care services combine traditional and contemporary techniques as recommended by museums, expert technicians, and industry leaders.  We tailor all services for each individual rug.
Immersion washing is recommend for most Oriental, Persian, and other specialty rugs..  Our advanced 8-step process is described below.
Hand dry-cleaning protects fibers too delicate for any water.  That includes silk as well as many manmade fibers such as art silk, banana silk, and processed bamboo.
Dusting removes abrasive particles between cleanings to extend lifetimes and remove irritants.
Pet urine treatments remove rather than mask puddle odors and stains using specially formulated gentle products.
Allergy treatments use all-natural products for those who suffer from allergies to reduce the effects of dust, pollen, and dander.
Moth and pest treatments kill larva and eggs.  It's these pests rather than the adult insects that damage silk, wool, and other natural fibers.
Soil and stain protector applications keep rugs clean and fresh longer, give you more time to blot spills, and promote better results next cleaning.
Rug padding prevents the trip hazards caused by shifting, curling, and wrinkling.  It also reduce uneven wear  protects bottom surface from dirt and debris.  But cheap padding can gather grime.  So we use only high-quality felt.
Tea washing restores the tinting often used for an antiquing effect on fringe.
Preparation and storage protects your fine rugs until you're ready to use them again.  We'll clean and dry them, apply insect retardant, and wrap them for storage at our facility or a location of your choice.
Rug repairs require special expertise.  While we may do simple repairs, we'll refer you to our network of local experts near Poway for more serious work.
Rug appraisals for insurance purposes also requires unique qualifications. We'll access our network, and possibly save you some costs in the process.
Our Unique 8-Step Process
We're known throughout Poway and beyond for our immersion cleaning process that combines the latest techniques and products with centuries of wisdom.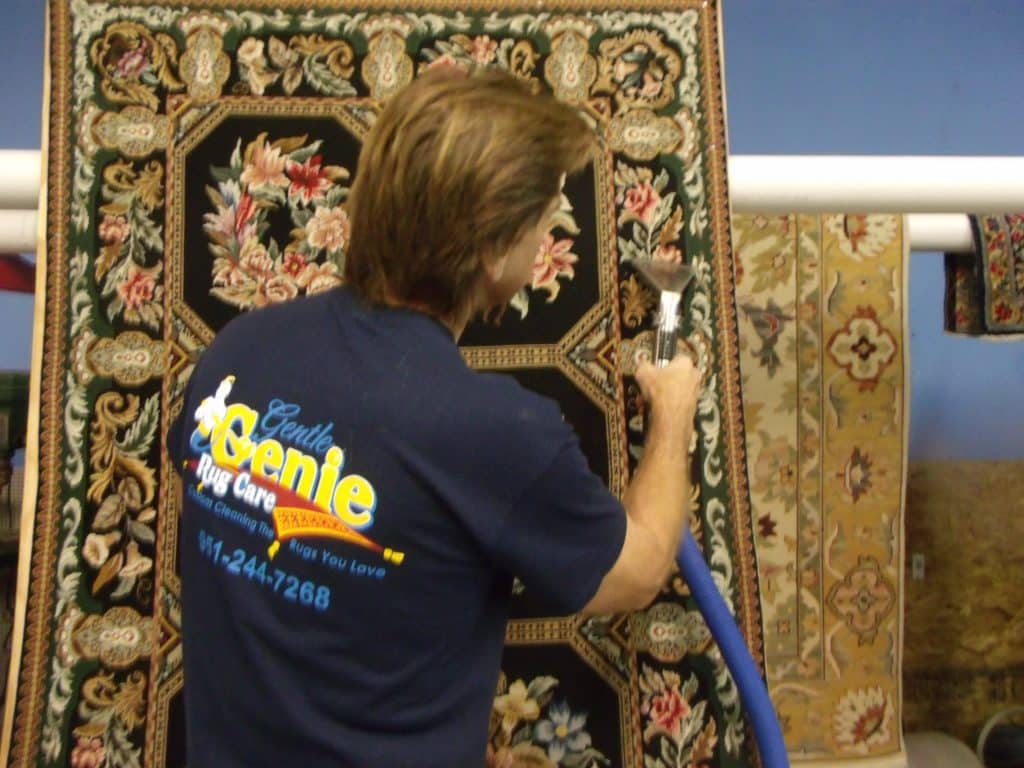 Pre-inspection includes a thorough visual inspection for the type of fiber, pile density, weave type, country of origin, and overall condition. Plus a test of the color fastness of dyes and a written report of the findings.
Dusting is a surprisingly important step.  It removes dust, soil, and other particulates which could "cement" together during washing, damaging the rug and interfering with cleaning.  We use a pro Rug Badger then vacuum both sides.
Odor removal adds special treatments if something is unlikely to come out during washing, such as pet, mildew, or smoke odors.  Our methods are effective yet gentle.
Cleaning is the immersion washing itself together with stain and spot removal.  Our specialized detergents preserve color and we always wash and rinse each rug separately.
Rinsing in continuously running filtered water is much like the "river washing" used for centuries. Rinsing continues until nothing emerges but clear, clean water.  So there's no residues that could contribute to fading, discoloration, or excessive wear.
Grooming involves brushing in the direction of the pile knots for a uniform texture and the greatest beauty.
Drying starts with the rug laid horizontally to maintain shape and avoid color bleeding. It continues with hanging vertically in our custom climate-controlled room until moisture measurements say it's properly dry.
Post-inspection  makes sure everything's as near perfect as possible.  We also dust and vacuum again along with repeating any steps as needed.
Poway Residents Choose Gentle Genie
Our team is dedicated to excellence in technical expertise, business ethics, and courtesy to all our clients in Poway.  Never venturing too far from tried-and-true methods, our IICRC certified rug technicians are always up to date through continuing education, membership in professional organizations, and participation in industry events and research.
Locally owned and operated we  individualize our services to each customer and each individual rug, always taking the time to do everything right.  So why not call us for a free inspection and estimate?
Poway
Derived from the Native Kumeyaay word pawiiy/pauwai, the city's name refers to the "meeting of little valleys."  Incorporated in 1980, Poway remains "the city in the country."
Our Recent Projects