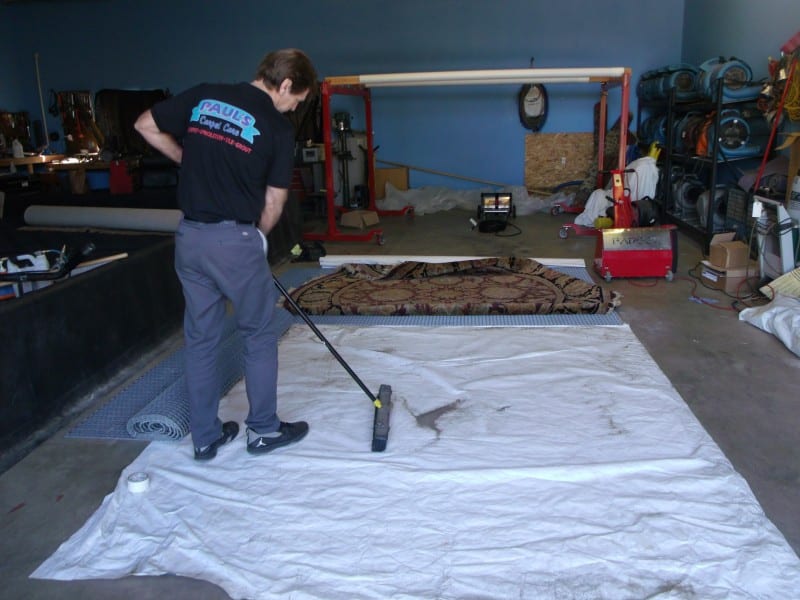 Fine rugs are truly treasured works of art, worthy of the very best care.  Properly cleaned and maintained they could last for generations to come.
But standard carpet cleaning methods are too harsh for natural fibers and can damage, or at least reduce the lifetime, of quality area rugs.
It takes a great deal of training and experience to properly handle the wide variety of textile fibers, dyes, and construction methods.  Experts, such as Gentle Genie, offer a low-cost, pick-up and delivery option so that you can avoid the disruption and inconvenience of an in-home cleaning. All the while making sure your rugs will receive the standard of care they deserve. Even from a purely economic standpoint, professional, in-plant, cleaning is well worth the cost to protect your investment.
Avoid the Risk of Damage
Experts agree that you should not try to clean a fine rug yourself.  First, it's physically demanding and second, there are many opportunities for mistakes.  Most rug shampoos and stain removers are formulated for synthetic wall-to-wall carpets and not for natural fibers.  Never use bleach, oxygen-based ("oxy") or alkaline cleansers, or dry powders.
Reputable in-home carpet cleaning services will recognize that your rug is a fine textile, but inexperienced operators are likely to miss details and cause far more harm than good.  Most "steam cleaning" services nowadays are performing hot-water cleaning, but may still be using harsh chemicals and excessive temperatures.
In-home cleaning has another major drawback.  Water extraction is difficult for nearly all-natural fibers.  If drying out takes too long, you can end up with mold and odor problems.  Finally, both natural and synthetic dyes can suffer color bleeding that spoils the appearance of your treasure.  Only a true professional can perform the proper tests and then know exactly how to clean without causing problems.
Thorough Cleaning Without Residue
Deep-down dirt contains abrasive particles that will cut through rug fibers.  Unless it's completely removed, you'll have unnecessary wear that shortens your rug's lifetime.
Actually, one of the biggest problems with in-home cleaning is left-behind shampoo residues.  These attract dirt and lead to the need for all the more frequent cleaning.
After a thorough dusting, studio cleaning involves immersion in water and thorough cleaning.  That's followed by continuous running-water rinsing until all cleaning agents are completely removed.  That's then followed by water extraction and carefully controlled drying.
Wool Rugs:  Oriental, Persian, Navajo, and More
Wool requires extra-special care.  It's a prime component of Oriental rugs, Persian rugs, Navajo rugs, and many more.  Most people know that wool items are prone to lose their shape and shrink if not washed properly in cold water.  It also absorbs more water than other natural fibers, making these rugs particularly difficult to dry and thus prone to mold and other problems.  Alkali cleaners are especially damaging, and special treatments are usually required to avoid brittleness and restore luster to wool fibers.
Professional Inspection and Care
Now you've seen why it's important to trust with your fine rugs only to studio-cleaning experts such as Gentle Genie.  It's easy to miss any of the many details necessary for proper area rug cleaning and preservation.  Experts like us have the training and experience needed to "expect the unexpected."  We'll analyze the fibers, dyes, and construction methods and inspect for stains and pre-existing conditions before we even start clean.  That means we'll know exactly the right methods, shampoos, and treatments for your particular textile.  Our all-hand processes will fully restore the appearance and preserve the value of that art treasure you choose so carefully and make a  part of your home.