Santa Monica Expert Area Rug Cleaning Services
Your fine area rugs are an important part of your home and may even be a family heirloom. Many of our Santa Monica customers feature their rugs as the centerpiece of a room's decor. They deserve nothing less than the best care and service. Be sure that you never steam clean, bonnet dry clean, or machine wash your fine area rugs.
Our Area Rug Cleaning Services
We're Santa Monica's trusted fine area rug cleaners. From antique to contemporary, we have experience cleaning and protecting just about any Oriental, Persian, Chinese, Indian, Navajo and other tribal, silk, Tibetan, Turkish, wool and other specialty rugs. We also clean tapestries, needlepoint rugs, and wool horse blanket rugs. We tailor each of our services to the particular type of construction and fiber.
Full immersion cleaning as recommended by merchants and museums.
Hand dry cleaning for fibers that shouldn't be exposed to water.
Dusting to shake loose and remove contamination between cleanings and prior to washing.
Padding replacement and addition using only quality felt to reduce slipping, curl, and wear.
Allergy treatment to minimize the effects of dust, dander, and other allergens.
Moth and pest treatment to protect your rugs from the damage caused by insect larvae
Pet urine, stain and odor removal.
Soil and stain protector to reduce penetration into fibers and give you more time to clean and blot.
Tea washing to restore an antique look to fringe.
Preparation and storage to preserve rugs when they're not in use.
We can also refer you to experts in Santa Monica for repairs and formal appraisals.
Santa Monica 8-Step Cleaning Process
For most types of rugs we use our extremely thorough, yet safe, 8-step process.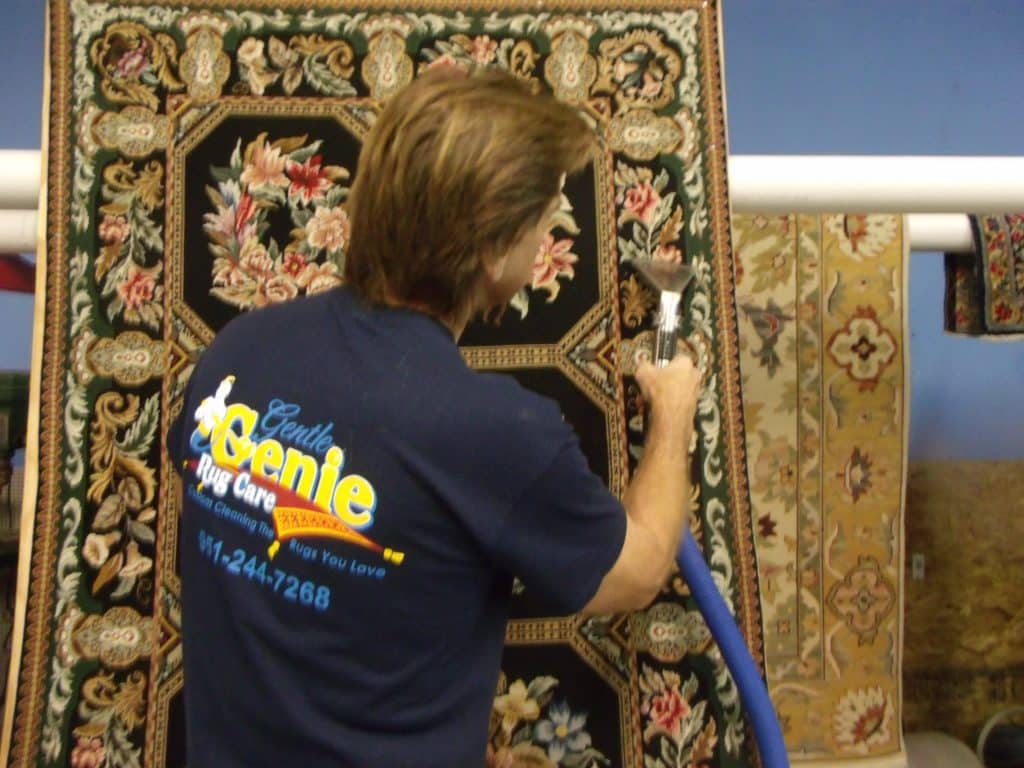 Pre-inspection to determine the pile, weave, fiber, condition and test for color fastness. We keep a record of all our findings.
Dusting to prevent caking and other interference with the cleaning procedure.
Odor removal.
Full immersion cleaning, emulating thousand-year old traditional methods combined with the latest mild cleansers.
Rinsing under continuously flowing purified water for an absolutely thorough finish.  There's nothing left behind that could cause fading, discoloration, premature soiling, or unnecessary wear.
Grooming via careful brushing for the best nap and texture.
Controlled drying, horizontal first to avoid bleeding. Then vertical, in a ventilated humidity-controlled room. To assure proper drying, each rug is monitored for moisture content.
Post-inspection and a second dusting.  We'll repeat any other steps as needed for an absolutely clean rug.
Santa Monica Residents Choose Gentle Genie
We've set new standards for fine area rug cleaning in and around Santa Monica. Thanks to continuing education together with participation in professional organizations, research, and trade shows, we always know what's best for each and every rug we treat.
Gentle Genie Rug Care is committed to conducting business responsibly, ethically, reliably, and courteously by proving our integrity through hard work in order to meet and exceed your expectations. We believe in putting these beliefs into action by putting you first, listening to your concerns, and individualizing our services through flexible, personalized attention.
Our expert IICRC certified rug cleaning technicians combine time-tested methods with state of the art equipment and the latest proven products. Working in our custom studio and unique drying room, we'll treasure your fine rugs just as you do!
Call us for a free 6-step inspection and estimate.
Santa Monica Eco-Friendly Fun Facts
The first solar-powered Ferris wheel is located on the Santa Monica Pier. It features 174,000 LED lights. The ride is so green that it even goes dark every year to celebrate Earth Hour.
Counted among Los Angeles's top nature reserves are the 153,095-acre Santa Monica National Recreation Area and the 55,000-acre Santa Monica Mountains Conservancy.
Beach volleyball was born in the early 1900s when people in Santa Monica decided to take the previously indoor sport outdoors.
Our Recent Projects