Your fine area rugs deserve the expert care Gentle Genie provides in Yucaipa.  Following our extensive training and years of experience we wash each individually, always by hand.  Whether an heirloom or antique, or a contemporary design you fell in love with, we know the proper  procedures for pretty much every type of rug there is.
Whether mass produced or irreplaceable handiwork, fine rugs should never be hot steamed cleaned like wall-to-wall carpet, bonnet dry cleaned, nor subject to machine washing.  You can count on us to clean and protect your treasures for generations to come.
All Types of Fine Area Rugs
We're equipped to process a wide range of rugs, domestic and imported, offering far more than Oriental rug cleaning and Persian rug cleaning.  Our expertise includes antique, Chinese, designer, Navajo and other tribal, needlepoint, silk, specialty, tapestry, Tibetan, Turkish, and wool rugs.  Even woolen horse blanket rugs.
Our Yucaipa Rug Care Services
We're ready to provide the full range of rug care.
Immersion cleaning as recommended by museum experts, mimicking centuries-old methods with the addition of modern gentle cleansers.
Hand dry cleaning for rugs with delicate fibers such as silk, art silk, banana silk, jute, and processed bamboo.
Dusting as part of the cleaning process and for in between cleanings.  Even with thorough vacuuming, and no visible soiling there are still abrasive dust particles deep down in the pile.  Left to themselves they cause unnecessary wear, making dusting critical to preservation.  It also reduces allergens.
Pet urine treatments to reduce or eliminate staining and odors.
Moth and pest treatment against larvae.  It's actually the larvae just hatched from eggs, not adult insects, that chew fibers.
Allergy treatments using natural products to reduce the amount of allergens and their effects.
Soil and stain protector treatments using specialty products to reduce staining and give better results upon cleaning.
Padding guards against shifting, curling, and wrinkling along with the safety hazards they pose.  We use only quality felt padding to reduce wear and soiling.
Tea washing used to give fringe an antique or more complimentary look sometimes washes out.  When that can't be avoided we can re-apply tea washing.
Preparation and storage for whenever you would like to remove your rugs, such as during summer months or while on travel.  We'll clean and dry each item, apply insect retardant, and wrap it for storage at our facility or at your choice of alternative location.
We make only minor repairs ourselves, and will refer you to a specialist for anything significant.  We don't do formal appraisals, but again, can refer you to a specialist.
Our Full Immersion Process
We're especially proud of our own studio custom-built for the best in cleaning, rinsing, and drying.  Our 8-step process assures that your rugs leave our studio thoroughly clean and in the best condition possible.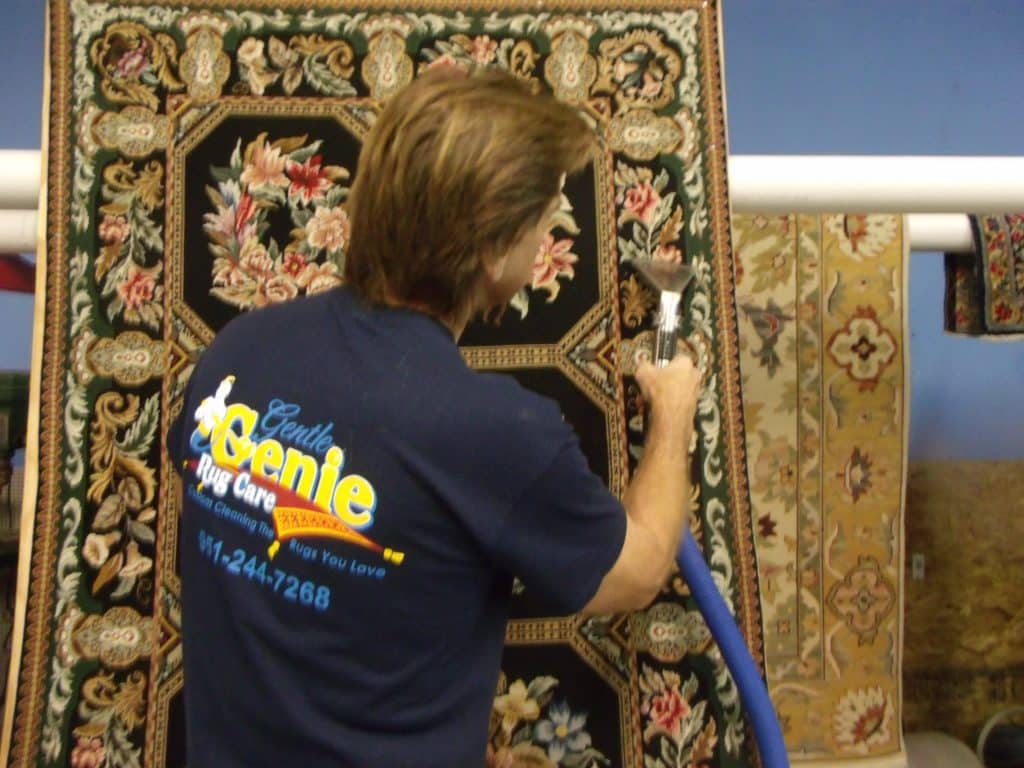 Pre-inspection to determine types of fibers, the density and type of the pile, and the country of origin.  We'll carefully measure dimensions, assess the overall condition, and test for color fastness. Only then can we determine the precise type of cleaning, outlined in the following.
Dusting is perhaps the most important step, remove as much as possible prior to immersion in order to avoid clumping and potential damage.  We use a combination of a dusting machine and vacuum, both special-built for fine area rug care.
An odor removal step takes care of  trapped odors such as pet, smoke, mildew with gentle neutralizing agents.
Details of the cleaning itself differs with the fibers, dye, and construction.  It's most commonly full immersion cleaning, otherwise hand dry cleaning.  To prevent color loss and dye bleeding we wash each rug separately using cold chlorine-free water and pH-balanced cleansers.  This step also includes stain and spot removal.
Our rinsing with continuously flowing soft water is as close to river washing as can be.  It continues until the outflow is crystal-clear for an absolute minimum of residues.
Grooming, brushing in the direction of the pile for proper drying, results in a uniform texture and sheen.  We're extra-attentive to fringe.
Drying begins flat to avoid bleeding.  Rugs are then hung in a environmentally controlled drying room with forced air circulation.  Rugs remain there until fiber moisture measurements show they're fully dry.
Post-inspection checks for cleanliness.  As needed we'll repeat steps, and always finish with a second dusting and vacuuming.
Yucaipa Residents Choose Gentle Genie
Our team is highly trained, and includes IICRC Rug Certified Technicians.  (The International Institution of Cleaning and Restoration Certification is the leading world-wide non-profit.)  We're committed to excellence and integrity, giving each customer and each rug the individualized attention they deserve, and always take the time to do the job right.  We maintain state of the art equipment and use eco-friendly products.  And our techniques combine proven processes with the latest in continuing education and professional research.
We offer convenient in-home inspections and estimates, with pickup and delivery available.
Yucaipa
The small City of Yucaipa California has several claims to fame.  First, it was the home to Stater Bros. Markets, founded here in 1936.  Surprisingly, 23 of its high school graduates were drafted into Major League Baseball, with 6 actually playing.  And it offers several great outdoors locations — Badlands, Crafton Hills Ridge Trail, Panorama Point, Crafton Hills Open Space Preserve, and Banning Bench to name a few.
Our Recent Projects